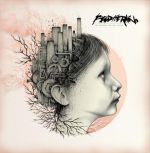 Feed The Rhino is a band that detest the norm. They've built up an avid following of fans that think the same. Their sound isn't pigeon holed or shoved in a blender to be mixed up or smoothed out. Yeah their music is rough, macabre, and highly charged, but that's what makes the band a force. With their new record 'The Sorrow And The Sound', the act pound the central nerve and shock the system.
The atmospheric sound is relentless. There is a sense of bitterness too, the vocals prod and peel at the walls of the mind, alerting it to wake up. I'm sure that there was guts wretched when the record was being produced, and spit, a whole load spit shot at the microphone.
The guitars are blended in well. 'Give Up' showcases this brilliantly. It's a song that is unrelentingly unique, the guitars are potent and electrifying, peppered in empowering vocals and there is a installation of bitterness in the lyrics. This bitterness exudes and adds depth to the content. 'Black Horse' is calmer. The vocals are not stretched until the pulsating chorus marches in. It's soothing and surprisingly elegant.
'Deny And Offend' is rough around the edges. The chorus sparks fury and the guitars are ready to turn into flesh eating monsters. You can't fault the band for their honesty and loud music. They want the pop lovers to listen to what they have to say, they want their thoughts to come through their thoroughly instinctive art. 'Bright Side Of A Dark Ride' focuses on the guitar arrangements and the shouts and sneers. The opening guitar sequence is powerful and urgent, infectious and broad. There is no denying the band's incredible love for their instruments.
Feed The Rhino have fed their music with purpose and intent. Not covering up or caging their feelings. They've created a record that bubbles with rage. They don't like the world and have stated that with their new opus.
4/5
'The Sorrow and the Sound' by Feed the Rhino is out now on Siege of Amida and Century Media Records.
Feed the Rhino links: Twitter
Words by Mark McConville (@Writer1990Mark)