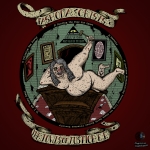 On first listen, I really didn't know what to make of Southend's Fashoda Crisis. They have that weird, quirky sound to them; their style could loosely be tagged as indie rock or art rock, something with rock within in it, that I am sure of. They have a dramatic emphasis which I like; the vocals are not merely sung, or shouted or screamed, there is an emphasis, fluency and pronunciation to dialogue. The guitars add to the dynamics, mixing between heavy chord progressions and jangley indie style riffs.
Personally, I cannot compare the three piece to anyone I have ever listened to, however they cite recognisable acts such as The Smashing Pumpkins, Pixies and Mclusky as influences.
The EP won't take up much of your time (around the 11 minute mark to be precise) but it is a worthy listen. 'Polonium Tea Party' is a heavy introduction and demonstrates the heavy dynamic of the band, the chordal riff is dense and strong but then accompanied by a stripped down bass. That dramatic and creative emphasis on the vocals is apparent from the second the track starts, a three part harmony before the intro riff is then accompanied by the lead vocals; heavily accented and not following a conventional singing style.
<a href="http://fashodacrisis.bandcamp.com/album/the-jowls-of-justice-e-p" data-mce-href="http://fashodacrisis.bandcamp.com/album/the-jowls-of-justice-e-p">The Jowls of Justice e.p by Fashoda Crisis</a>
'Hunting The Poor For Sport' demonstrates the diversity of this band, the heaviness is still there, however the focus is solely on the vocals in this track. Starting with just the vocals, it is somewhat a poem or a spoken word piece. The instrumentation merely adds to rhythm and keeps the pace of the track, it is the shortest track but is definitely a stand out track.
The garage punk inspired 'Another Disappointing Product From The Simon Smith Broken Promises Factory' has a great driving bass line, the vocal emphasis is still here and it is very staccato in places; it's choppy but has a great groove to it.
On first listen Fashoda Crisis may not appeal to you, why? Well because they are a band you cannot just listen to once, they need your undivided attention if you are to make a fair judgement of their music and sound. I learnt this and I am passing that new found knowledge on. These guys will not be for everyone. They've certainly knocked me out of my comfort zone but I like it about these guys, I've learnt something from them I want to delve into why they sound like they do. Definitely worth a listen.
3/5
'The Jowls of Justice' EP by Fashoda Crisis is available now on Bandcamp.
Fashoda Crisis links: Official Website|Facebook|Twitter|Bandcamp
Words by Robert Maddison