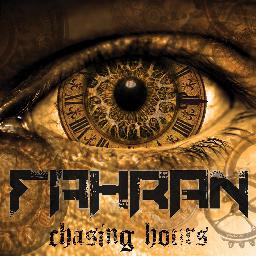 Taking influence from hard rock giants of the past like Queen and Iron Maiden, Breaston quintet Fahran brings their own blend of hard rock sounds. Having released a sophomore effort under the name Toxic Federation, the quintet gained a broad fan base, however a name change was needed to "reaffirm their new direction". However, they were to experience further setbacks with the departure of both their bass player and lead vocalist. After these trials and tribulations, Fahran has managed to successfully put out a strong thirteen-track follow-up, named 'Chasing Hours'.
The opening track 'Long Gone' starts with an eerie acoustic guitar similar to what you'd expect to hear accompanied by scenes of desert landscapes. Drums begin to subtly build and long notes are held by an electric guitar; three quick stabs and the song breaks into full band. The band breaks out into a very tight and exciting riff. Then the verse is brought down and is dominated by the vocals of new vocalist Matt Black, although it is not until the pre-chorus that he displays his full range capabilities. After an impressive solo, the song is brought down to some more lengthy chords and intricate guitar work, before breaking back into a solo. This juxtaposition of loud and quiet is cleverly deployed here, highlighting the mature song writing style of this youthful band.
Their newest single 'I Heard a Joke Once' packs a powerful opening riff, giving way to an equally powerful verse controlled by the pace of the drums. A soaring chorus is reached and Matt Black gives a powerful vocal performance, hitting the higher end of his range. Later in the track, following the chorus, a guitar strums to muffled vocals, comprising a melodic breakdown of three parts, the second part with a guitar solo and the third accompanied by desperate lengthy vocals. This is a definite highlight of the album with its catchy chorus, head banging verse and technical solos.
The penultimate track, 'Black Mirror', offers a different pace, beginning with a soft bass and guitar duet. Despite another big riff consistent with the rest of the album, this track has a refreshingly slower feel overall with calmer vocals from Black. The chorus effortlessly transitions back and forth with the verse, making the track smooth and clean cut. True to the albums' form there is an enjoyable guitar solo that signals a distinct increase in pace and heaviness. This is certainly an anthem for the live performances.
Even more impressive is that the album is self-produced, yet still has a high standard of quality. 'Chasing Hours' is a commendable effort for this band to try and bring themselves back onto the scene after many setbacks, having previously performed at many prestigious festivals. It is foreseeable that, following on from 'Chasing Hours', Fahran will develop and join the ranks with other great contemporaries such as Black Stone Cherry, Alter Bridge and Shinedown.
3/5
'Chasing Hours' by Fahran is out now.
Fahran links: Website|Facebook|Twitter|Bandcamp

Words by George Isaacs (@TryGeorgeIsaacs)