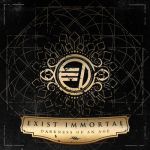 Personally, when listening to a metal band I want a record full of riffs that could easily melt my face. This is something that Exist Immortal have in abundance. Shredding riifs as well as just pure chugging, these boys clearly know their way around a guitar.
To top this off, the band offer some raw brutal vocals on debut album 'Darkness Of An Age', where there are parts where the band are nearing on the black metal side of things. Then out of nowhere, Exist Immortal throw a curve ball by introducing melodic vocals for the choruses of their songs. Usually this dampens the sheer heaviness of a song, but some how Exist Immortal make it stick.
Rather than trying to keep the melodic portions of their music super heavy, they almost bring down the tone to suit. This is very evident in 'In Parallax', when the guitars and drums are a lot softer during the melodic parts of the song, but then really kick in hard when the heavy riffs return.
Similar with the single 'Edge Of Infinity', the band seem to bring an all round brutality to the song but manage to pull off the catchy elements of the metalcore genre just as easily. It is a rarity for such a dense genre to find a diamond among the rough, but this is exactly what Exist Immortal are.
From start to finish, 'Darkness of an Age' makes the metal-head inside you grow your hair long and just constantly do windmills, but on the flip side it makes you want to nod your head along to the beautiful melodies and sing along. A Personal favourite, 'Desolace' left me playing air guitar one second then wanting to punch a whole through a wall the next. 
It is obvious that Exist Immortal have taken influences from bands like Killswitch Engage and Memphis May Fire in this melodic metal subgenre, but they certainly have put there own twist on it with great results.
4/5
'Darkness of an Age' by Exist Immortal is out now.
Exist Immortal links: Facebook|Bandcamp|Twitter
Words by Tim Birkbeck (@Tim_Birkbeck)