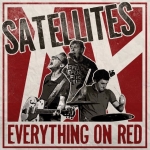 There are plenty of good punk records coming out right now. Why then, should anyone bother checking out another one? One reason would be because Everything On Red's 'Satellites' is ten songs of blistering punk, providing something better than the majority of other bands will put out this summer. This is a powerful record, with riffs sharper than Ryan Gosling in his finest suit, and melodic runs done justice by the impeccable vocals offered up by different members of the band throughout.
The title track is a good place to start, showing off much of what this record has to offer, particularly in the way of vocal exchanges and neat guitar work. 'We Belong This Way' is slower, and although being far from the best track on the album – personally I feel this might be the one and only skipPable track here – it still makes for excellent listening.
<a href="http://everythingonred.bandcamp.com/album/satellites" data-mce-href="http://everythingonred.bandcamp.com/album/satellites">Satellites by Everything on Red</a>
The band pours all of their energy into every beat and every breath of these ten songs and it shows. Tracks like 'Holiday Of A Lifetime,' which reminds me a lot of No Comply (admittedly a male fronted, hornless No Comply) and 'If I Had a Hi-Fi,' featuring the best vocals anywhere on 'Satellites'', are prime examples of the aforementioned wealth of energy. These are the sorts of tracks that really get in your chest and make you want to move around.
'Satellites' is, put very simply, the result of some excellent and intelligent songwriting. The "tick tock tick tock" vocal breaks of 'You Play The Cards That You Are Dealt' are a perfect example – a tiny touch that add an extra layer to an already exemplary piece. It's the last track, 'Sleep When You're Dead' that really drops the cherry on this enormous metaphorical cake as, over the course of four minutes and four seconds, Everything On Red put everything out on show one last time; the cool riffs, the excellently layered vocals and the meticulously worked rhythms coming out to play one last time before the end.
4/5
'Satellites' by Everything On Red is available now on Bandcamp.
Everything On Red links: Facebook|Twitter|Bandcamp
Words by Tom Knott (@nounandthenouns)