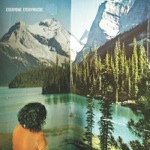 This is the second album from Philadelphia's Everyone Everywhere and is curiously also the second self-titled release from the band, following up 2010's 'Everyone Everywhere' is this effort, also named 'Everyone Everywhere.'
With a sound similar to Big Scary Monsters label-mates Tangled Hair and Grown Ups, with hints of Sunny Day Real Estate and Jimmy Eat World, Everyone Everywhere stand tentatively between emo and indie, dipping their toes in each sound. It is a sound which very much suits them and helps them create one of the most memorable albums of the year so far.
Opener 'I Feel Exhausted' is a beast of a track, clocking in at nearly six minutes of hazy guitars and tender vocals, a theme not matched by a relatively short album. It is a case of quality over quantity however with tracks like 'Turn And Go And Turn' enthusing a dizzying energy. Propelled along by an electronic influenced guitar loop, the song becomes one of the highlights of the album.
The album bathes in a sweet, blissful energy, with tracks like 'Queen Mary II,' an emo-indie hybrid of the highest quality. Soothing yet anxious, beautiful looped guitar melodies play against the breathy vocals of Brendan McHugh as he gasps 'The air, the air, the air, I'm reaching for the air, Mother Nature's disappeared…' Lyrically the album is strong and matches the neurotic indie music it is partnered with.
This is very much an album where everything clicks into place with the greatest of ease to create something very natural that sounds great on the ears. By the time closer 'Wild Life,' with its' Jack's Mannequin style jangling guitars and crashing drums, fades away, you are under no illusion that Everyone Everywhere have created an indie-pop gem.
'Everyone Everywhere' is a sublime second album, more refined than its' previous namesake. Each song is a delicate, subtle exploration and reimagining of the much combined indie and emo hybrid to great effect. Great songwriting, with memorable melodies. 
4/5
'Everyone Everywhere' by Everyone Everywhere is released on August 14th through Big Scary Monsters.
Everyone Everywhere links: Website|Facebook|Twitter
Words by Thomas White (@whiteywitters)