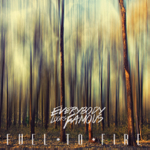 Everybody Looks Famous are an up and coming Birmingham-based pop rock group ready to dominate the UK alternative scene. These young rockers already have a growing fan base and were picked up by BBC Introducing as well as featuring on Kerrang radio. They have also managed to share the stage with some massive names such as Tinie Tempah, Canterbury, Fearless Vampire Killers, Scouting For Girls and The Saturdays.
Once you begin to listen to the record, it's instantly obvious what makes these guys stand-out; the delightful vocal surprise. Everybody Looks Famous has a rare-gem of a female vocalist, often a failing decision in the alternative music scene. Even I have to admit I generally don't like girl singers, but lead singer Lex has managed to prove me wrong – for these guys it really works. Lex's vocals are sweetly mesmerising throughout the entire record and really compliment the band's sound and style.
The album begins with the title track 'Fuel To Fire', you're typical upbeat pop-punk number, featuring heavy rocky riffs, a punchy beat and electronic symphonies. The chorus is a sing-along triumphant with cleverly catchy lyrics. If I'm completely honest, my only criticism is the group's familiarity to the famous Paramore; you shouldn't compare, but it's blindly obvious who Everybody Looks Famous has looked up to for inspiration. Every bit about them screams Paramore, and unfortunately for these guys whilst Paramore are still around – they will never hold the status for originality, innovation or creativity.
The top-hit is 'Everybody Else' which is a stunning slow-paced melodic track featuring soft captivating vocals, beautiful piano tunes and a harmonious melody. The track is soulful and full of emotion but regretfully is ruined by the typical cliché lyrics "your worst kept secret". The other recommended listens are 'Fingerprints' and 'Stay With Me' which are enchanting powerful hits, featuring a slow sweet melody, pleasing acoustic riffs and absolutely stunning sorrowful vocals.
The other tracks all leave a bitter taste of disappointment, as they all sound exactly the same; there is no variation or differentiation. Some of the songs sound muddled and simply have too much going on, such as 'Phoenix' which is destroyed by the loud-pitched electronic symphonies that over power the other musical elements.
Everybody Looks Famous are a musically talented band, which need to consider toning down the electronic features which seem to spoil most of the tracks. It will be difficult for them to shrug off the Paramore copycat comparisons, but I feel they're yet to grasp their own musical identity and style.
2/5
'Fuel To Fire' by Everybody Looks Famous is out now on Go Faster Records
Everybody Looks Famous links: Website|Facebook|Twitter
Words by Chantelle Kelly(@ChantelleKelly3)