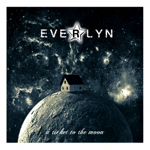 Madrid-based rock band Everlyn has been trying their best to garner international attention, fighting to break stereotypes and overcome the difficulties of being a girl-fronted Spanish rock band. The band's first full-length 'A Ticket To The Moon' will definitely launch them into the arena with its hard-edged dramatic take on the alternative rock genre.
Girl fronted bands never seem get the recognition they deserve and somehow always fall under the "another Hayley Williams" category. This really is a shame, because Everlyn's Karol Arribas shakes up your expectations of what a girl vocalist is capable of, bringing a feminine yet very strong voice with a tough edge right away on the first track 'What Goes Around'.
Her voice keeps this band fresh and gives them a whole different sound that is certainly unexpected and hard to find. 'Dreams Are For Those Who Sleep' toes the line of pop punk but manages to retain enough edge, and 'Analogies' is a hard-hitting track with brooding, angry tones that really shows off the band's talent at vocal and musical arrangements and knack for injecting emotions. 'It's Not Me, It's You,' is a little sexy, sultry track with added dimension with backing vocals from guitarist Mario Baños.
Everlyn shines in these hard rocking moments, using Arribas' strong, clear vocals to contrast with complicated guitar riffs, while still showing restraint. 'Vortex' is the perfect example of that restraint, using really simple guitars that give it an acoustic vibe, accompanying this with a heart-beat like bass drum and some background snaps. While simple, the song somehow manages to stand out and maintain a darker side. 
While 'A Ticket To The Moon' is able to be more of a rock album than a pop one, the heavily pop tracks seem to be the weaker songs in the album. 'Anything But Easy' ends up sounding cheesy and overdone, especially in contrast. 'Time To Change,' a song Coca-Cola chose to use in a commercial campaign, is very commercial and not particularly interesting, and the same goes for 'Pointless Road.'  These middle-of-the-album tracks blend together and get lost, and it feels like the band is trying a bit too hard to be accessible.  
Despite these missteps, Everlyn delivers a very strong debut album. 'A Ticket To The Moon' is easy to listen to and immediately likeable, even if you're not a fan of female vocalists. They have enough talent with a unique sound to carry them overseas and gain a following in the U.S. and the UK, and it wouldn't be surprising to see them touring in full force very soon.
4/5
'A Ticket To The Moon' by Everlyn is out on the 26th February on BMG.
Everlyn links: Facebook|Twitter
Words by Jenny Gagas (@Jenny_herself)