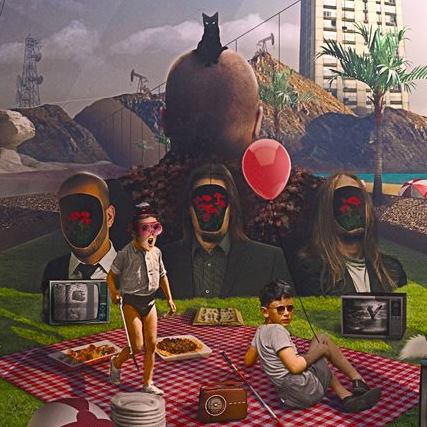 Featuring members from King Diamond, Uneven Structure, Kamlath and even Primus, supergroup Escapethecult is a progressive metal bonanza, featuring a myriad of established metal musicians. Yes, we've seen this countless times before. A group of respected musicians collaborate together to create music of their combined talents. This has proven to be as successful as Down, as wild as S.O.D, or as generic as Hellyeah. So, are Escapethecult the best supergroup that has ever been formed? Probably not. Can Escapethecult be compared with some of the best supergroups that have ever been formed? Maybe, maybe not. Is Escapethecult an interesting enough collaboration to lend an ear to? Absolutely.
At first listen however, I admittedly dismissed 'All You Want To', thinking it was enjoyable, yet believing that there was no factor that made it wholly memorable. Upon further listening however, this original view was completely shattered. Rather than grabbing you from the get-go, 'All You Want To' subtly weaves the style and sound that each member exhibits, and it is only upon further listening that you can appreciate how intricate and well-crafted 'All You Want To' really is.
Despite not springing into action right away, it's clear that from even the first track each musician is a master of their own craft, as the album fully showcases what each member has to offer. Mike Wead's spastically striking guitar riffs soar through the album. Whether they're charging at full power on tracks like 'Clandestine' or swaying elegantly with the wind effects on 'Feel The Flight', Wead's noodling abilities are something to be truly revered. Accompanying Wead is Matthieu Romarin's compelling vocal ability, which provides a powerful presence throughout the album, yet are truly mesmerising on lead single 'I'm Absolute'. Yet drummer Alexander's input is most prominent, spearheading the majority of tracks on the album with an unparalleled, controlled fury, whilst bassist Shallmin keeps up with razor-sharp efficiency.
The result of this has created an album that is beautifully orchestrated, with each instrument complimenting each other harmoniously. As the album fluctuates between serenity and ferocity, 'All You Want To' conjures the effect of true surrealism in a song like 'Feel The Flight', in which its melodic groove, commanded by Wead, creates a picturesque dreamscape suitably matching the album's artwork. This is until following track 'Tired of The Past' plummets the album back down to reality with a crushing opening riff.
Perhaps I'm overselling it, yet Escapethecult is certainly an intriguing listen to say the least. Full of sporadic, yet well-orchestrated moments, 'All You Want To' is certainly an enjoyable experience, as it not only demonstrates the unrivalled talent of each band member, but ultimately displays a supergroup that was absolutely worth listening to for a change.
4/5
'All You Want To' by Escapethecult is out now.
Escapethecult links: Facebook
Words by Harry Miller (@HarrryMiller)