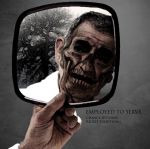 Employed To Serve are a nice change in the current scene. Where most bands opt for a more straightforward take on hardcore, whether full of fast riffs or slow beatdowns, the Woking 5-piece take the alternative approach of throwing the rule book out of the window and going for a full-frontal, aural assault. The result of doing so is 'Change Nothing, Regret Everything': six-tracks and 13 minutes of harsh, sporadic and unabashed anger.
The style on the EP is very reminiscent of hardcore that used to be very popular but doesn't have quite the presence that it used to. Fitting somewhere between The Dillinger Escape Plan, The Chariot and Heavy Heavy Low Low, the tracks on 'Change Nothing…' revolve around shifting tempo as often as possible, and alternating dynamics between mute and deafening. In the space of a song (none more than 2:46 in length) double-time sections with stop dead in their tracks and leave the listener with a few choice chords at a time, breaking up the pace and throwing around dissonant notes – all of which is executed as a precisely orchestrated mess. Where the faster riffs and beats provide the meat of the EP, the slower sections are what accentuate the chaotic structures and manic compositions – particularly in 'No-one's Child', which stops to indulge in a some Every Time I Die-style background leads behind the choppy chords – very reminiscent of ETID's 'Leatherneck'.
Where the instruments provide the controlled chaos, the vocals bring the tracks back into a feeling of instability that keeps the music interesting. Justine Jones and Sammy Urwin provide equally harsh distorted vocals which are staccato in delivery and mostly indecipherable in content, with Jones' high screams sounding particularly shredding – I use the term scream in the literal sense, rather than just to describe a harsh vocal style.
While there isn't anything particularly new sounding in this EP, it is certainly welcome in a landscape that tends not to indulge in broken and chaotic sounds as much as it used to a few years ago. Back in the mid-2000s, bands like Heavy Heavy Low Low and The Chariot very nicely filled the niche, but in their absence it is great to hear a band like Employed To Serve approach hardcore so brashly. The 13 minutes needed to take this EP in are very intense, but it's definitely worth your time to have a go at it.
4/5
'Change Nothing, Regret Everything' by Employed To Serve is out now on Holy Roar Records.
Employed to Serve links: Facebook|Bandcamp|Twitter
Words by Ben Kosma (@BenKosma)