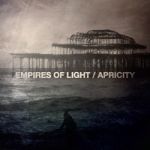 Instrumentally, this EP, Empires Of Light's first, isn't too bad. Immensely clichéd, right down to the band's name, but the band have combined the sludginess of Neurosis, the dynamics of Isis and the textures of Pelican to good effect here. However, the Midlands-based quartet's fatal flaw are their vocals – post-metal often works without vocal presence, and in the case of EoL, they'd be far better off canning the rasping shrieks and growls of frontman Nathan altogether.
Empires Of Light – Apricity by TDON Records
Formed during a period of downtime for the members' other bands (amongst them Opium Lord, History Of The Hawk and Sealclubber), Empires Of Light got together earlier this year, so in terms of conception to realisation this EP has appeared phenomenally fast, and to garner the attentions of legendary UK hardcore label Thirty Days Of Night is equally impressive. At 23 minutes for just three songs, this debut release is rather demanding of one's attention, and while the band are undoubtedly well-versed in the songcraft this genre demands, the vocals are unavoidably awful; whether that be down to bad production or rushed writing, it spoils what is otherwise a solid release.
The two "proper" songs (middle track 'Dalmatia' is little more than 6 minutes of feedback – a particularly testing period of the record) are more than worthy of your time during the vocalless parts, particularly the sumptuous intro of 'Sumerian' and the Sabbath-esque levels of doom in 'Meredith'. However, like a foot in your trifle, the delicious morsels become increasingly difficult to access and, after a while, the whole thing gets a bit too whiffy to appreciate, even for its good parts. Pity.
2.5/5
'Apricity' by Empires of Light is out now on Thirty Days of Night Records.
Empires of Light links: Facebook
Words by Ollie Connors (@olliexcore)