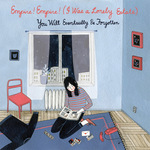 So Empire! Empire! (I Was A Lonely Estate) are by and large considered one of the–now many–bands who have helped spark up a renewed love for those heartfelt, low-fi sounds of nineties indie. You know, the one that seemingly permeates virtually every emo album nowadays. Even at mid-level cynicism, I struggle to believe this sort of nostalgia is always as earnest as it claims to be. Here's an idea: maybe you're clutching at proven cult stylings because you feel it will give your music the veneer of recognition it perhaps wouldn't otherwise deserve (or perhaps wouldn't earn, despite your qualities). Empire! Empire! (I Was A Lonely Estate), I'm happy to report, sound like there could have been no other way to play these songs. Newest album 'You Will Eventually Be Forgotten' is a composite of fragile emotionality, the fuzzy warmth of lo-fi production, along with the "in the garage" intimacy it entails.
I can't claim to have had any knowledge of this husband-and-wife duo prior to being receiving this album to review, and my initial thought looked something like this: a mix between a rougher (in terms of production value) The Weakerthans, Billy Corgan-esque vocals and that sweet, sweet emo juice. The resulting mix stripped back and made as minimalistic as it could go. The genuine recipe probably requires a little more Death Cab, certainly more than the "punkier" emo bands they cite as influences (though those slightly heavier leanings do express themselves on occasion, namely 'Foxfire' and 'We Are People Here, We Are Not Numbers'.
Perhaps the album's highlight, 'A Keepsake' is a delight of sweetness, unrushed pace and, always a good way to get a good review from this-here writer, a cute horn tidbit towards the end. There's heartbreak in the way the guitars are almost constantly harmonizing, a touch of melancholy in the soft cymbal crashes, and all sorts of quirk and bittersweet consolation in said-horns. 'You Will Eventually Be Forgotten' cannot be called an emotional rollercoaster in the sense that this isn't about twists and turns, changes of mood, but very much the heartwrenching brutality of an endlessly linear sadness. One that only comes to an end on the final track, a timely purveyor of that vital ray of hope. 'The Promise That Life Can Go On No Matter How Bad' is a masterclass in harmonizing every thing, and hitting those emotional highs. I cannot think of a way this album could've ended any better, and amidst the moodiness, there is some light.
4/5
'You Will Eventually Be Forgotten' by Empire! Empire! (I Was A Lonely Estate) is out now on Topshelf Records.
Empire! Empire! (I Was A Lonely Estate) links: Facebook|Twitter|Official Website|Tumblr|Bandcamp
Words by James Berclaz-Lewis (@bearclawlewis)