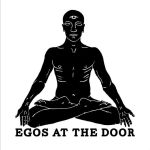 While I didn't expect to like an EP described as "experimental heavy music", Egos At The Door's new self-titled EP has proven that even something which sounds off-putting can be accessible, interesting and engaging in a way I didn't expect to be possible.
Opening with 'For lack of better words… Schnapps', this EP kicks things off with a bang, with a two-minute track littered with complicated, technical guitar work and heavy vocals which ensure you stand up and take attention. This is followed by the mega-heavy beginnings of 'Salad', which mellows out into a more Architect's type song, with a breakdown and sung-spoken part that demonstrates a real vocal talent.
The first of two instrumentals afterwards belies you into a calm, false sense of security, before jumping back in at full throttle with the great guitar riffs of 'I need an excuse to think'. The whole EP proceeds in this fashion, flicking back and forth between heavy metal and experimental intros, between amazing drum work and so gentle it's barely heard sections. 
Egos At The Door have essentially created something which sounds like three completely different bands all spliced together, and yet their genre-mutating release works. It's challenging to listen to, but in a way that courts your attention, and even after repeat plays I'm still uncovering lyrics, riffs and unusual instrumentation which makes me want to listen again.
There's a lot going on here, but it's fun and refreshing, with enough replay value to stretch the twenty minute EP for longer than you'd expect.  If you're tired of the run of the mill, give it a go, you'll be pleasantly surprised.
4/5
'Egos At The Door' by Egos At The Door is released on 10th March on Lockjaw Records.
Egos At The Door Links: Bandcamp|Facebook|Tumblr
Words by Jay Sullivan