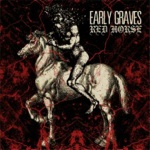 Punk-metal isn't a genre label that gets thrown around very much. Instead, the general audience has been provided with deathcore, thrash metal, metalcore, and even the wide-ranging and often confusing nature of post-hardcore. Yet this reviewer has no better definition for San Francisco outfit Early Graves' particular brand of metal. The quintet deal in uncompromisingly dark metal built upon a crust punk spine, ultimately taking the form of a gigantic, unfathomable beast of noise. In the aftermath of personal tragedy, Early Graves have re-emerged (with new vocalist John Strachan) in inspired form.
After an introductory build-up, conducted at a measured pace, 'Skinwalker' quickly bares its teeth with fast-paced grit, energetically guided by Strachan's commitment to an intensely visceral vocal delivery. The death metal(ish) vibe of the introduction is suddenly turned into an unstoppable maelstrom of punk of the most direct variety, remaining enthralling throughout. 'Misery', on the other hand, has no time to waste with "intros" or "silence" and delves straight into the devil's mouth, if you will. Very much a "to the point" kind of track, with the exception of a quick solo for good measure. 
From that point on, Early Graves barely waver in intensity. 'Days Of Cold' seems fashioned by the hands of distraught fallen angels but adds a dark acoustic guitar outro that, while sounding rather cheesy on paper, fits well into the emotional spectrum the album conveys, albeit through an alternative sonic platform. 'Red Horse' and 'Apocalyptic Nights' are both reliantly aggressive, maybe predictably so, but they confidently pave the way for a couple of twists during the album's final third.
Indeed, the band end their third album with a trio of in-genre polarities of sorts. 'Death Obsessed' introduces a lot of conventions that feel experimental considering the rest of the album's adherence to a specific sound: muscular rhythmic grooves surround Strachan's relevant lyrics, with the band veering furthest from their crusty spine into unfamiliar, but exhilarating, ground. 'Pure Hell', on the other hand, reverts back to the can't-stop-this metal-punk format with face-melting results, a masterclass in sonic aggression. Closer 'Quietus' proves an emphatic finish through a relentless assault of urgent metal, passing through a variety of paces and rhythms, shifting between abrasive and highly melodic sections. It is a perfect sign off to what is a great offering, and certainly seems the album's stand-out moment.
'Red Horse' has the particular feel of having been a vital necessity to the band, rather than a simple continuation of their career, an amplified importance in the light of tragedy. This writer, however, suggests it find similar importance in a metal fan's discography this year as it is, quite simply, a resounding triumph.
4.5/5
'Red Horse' by Early Graves is released on 30th October through No Sleep Records.
Early Graves links: Website|Facebook
Words by James Berclaz-Lewis (@swissbearclaw)