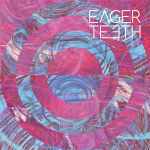 Members of the impressive roster of A Wolf at Your Door alumni (with other such breakaway successes such as Lower Than Atlantis, Deaf Havana, and this year's hopefuls Mallory Knox) Eager Teeth have been taken under the wing of AWOYD, which seem to generate success. These guys must be excited. A refreshing take on post hardcore, a more friendly take on punk, Eager Teeth's self titled debut album bursts with energy, not seeming to take a breath.
The perfect song to open the album, 'Mary Rosed' sets the precedent for the rest of the album, immediately defining their sound and displaying the talents of the band. One of the main things that stands out is just how raw these guys sound; it's just pure rock n' roll, balls to the wall punk rock.
<a href="http://eagerteeth.bandcamp.com/track/exorcise-bike" data-mce-href="http://eagerteeth.bandcamp.com/track/exorcise-bike">EXORCISE BIKE by Eager Teeth</a>
'Baby I Don't Wanna Know' is probably my favourite track from this album, with such an engaging chorus and great guitar lead lines throughout, the song is a perfect single to display just what this band are capable of and I would be very surprised if it wasn't released as one.
I can see why A Wolf At Your Door have chosen this band to accompany the rest of their impressive credentials; every song has a hook, and with elements of Hildamay, Eager Teeth know what they're doing. They know where they want to go and being signed to AWOYD can't hurt can it?
Finally working out who they slightly sound like, 'Golden Tongues' shows their punk influences, while displaying elements of Arctic Monkeys somehow. While finishing off the song by leading into 'Constantly Entertaining', the Arctic Monkeys influence is still evident. This song is going to be stuck in my head all day, the lyrics "Its constant, its constant, its constant entertainment, entertainment, that is constantly, entertaining you", finally starting to make sense, but then bursting back into the song, building up to a great crescendo. A highlight of the album.
A weird keyboard interlude, 'The Heart is Deceitful Above All Things' just makes no sense, holds no weight compared to the rest of the songs, and doesn't lead to anything related to it. I have no idea what it's about.
'I Decided Long Ago' is just pure adrenaline, completely contrasting from the interlude before it, 43 seconds of pure raw punk rock. Leading into 'Exorcise Bike', a song released for free download, to whet the appetites of listeners in anticipation of the album release.
Ending with 'I Don't Wanna Know Reprise', ending out the album on a high, less punk rock, but closing with a resounding chorus of all band members singing and clapping to a relaxing keyboard line. An interesting way to close the album, but a great way too.
For someone who doesn't listen to this sort of music, if I wanted to get into it, this is where I'd start. A great combination of post-hardcore and punk, sure to be great live, and for a debut album, it displays their potential perfectly. Sounding a bit too similar at times, but a great album all in all, Eager Teeth deserve to be a member of A Wolf at Your Door's repertoire.
3/5
'Eager Teeth' by Eager Teeth is out on the 18th March on A Wolf At Your Door Records.
Eager Teeth links: Facebook|Twitter|Tumblr|Bandcamp
Words by Callum McPhee (@Callum0510)