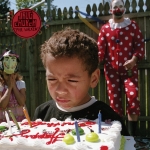 With the release of 'Paul Walker', Drug Church mark their first full-length foray in the world. Providing ten songs of grungy, stomping, and at times considerably cheesy post-hardcore.
Throughout 'Paul Walker' Drug Chuch maintain a gloriously muddy sound. If you want proof, look no further than the bass intro to 'Attending a Cousin's Birthday Party'. Not only does this one have a perfectly growling bass guitar sound, something that I will chase to the very ends of the earth, it's also one of the best tracks on the record full stop.
<a href="http://drugchurch.bandcamp.com/album/paul-walker" data-mce-href="http://drugchurch.bandcamp.com/album/paul-walker">Paul Walker by DRUG CHURCH</a>
At times, disappointingly so in opener 'Thinking About Joining Drug Church' (and the less said about 'Donny's Woods' the better) the lyrics/vocals border on the cringeworthy, but that's certainly not the case on '…Birthday Party', nor is it an issue for the majority of 'Paul Walker'. A.t times, particularly on the towering 'Thrill Hill', Patrick Kindlon's vocals are unsurpassable, playing a leading role in raising the fist-pumping power of the track to frenzied heights.
The stomping, grizzled nature of this record is a spectacle in and of itself. Musically simple and yet always interesting, Drug Church have pulled together an unexpected gem of hardcore melody. Slamming drums, overdriven bass, excellently worked guitars, and vocals that strut up and down through each and every song. Sure, once or twice there's a little left to be desired lyrically and the songs will begin to blur after a couple of listens but this is a solid debut. 'Paul Walker' is unlikely to convert any doubters but for those out looking for a dirty, simple, post-hardcore record, this should certainly hit the mark.
3.5/5
'Paul Walker' by Drug Church is available now on No Sleep Records.
Drug Church links: Facebook|Bandcamp|Twitter|Tumblr
Words by Tom Knott (@nounandthenouns)