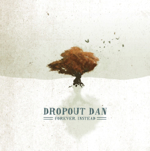 When I first received this to review, I'll be honest, I wasn't excited at all; Another UK folk singer songwriter. I thought I'd heard enough of this stuff to last me a lifetime, however, with Dropout Dan, I feel like my faith in this genre is restored a little.
On Valentines Day Dropout Dan will release 'Forever Instead'; A collection of five songs that each show a genuinely talented musician taking a well worn road and making it all seem new and exciting again. Opener 'Oh Little Red' is an upbeat little ditty which serves as a great introduction to those who haven't heard the Cambridgeshire born artist's music.
'The Sound of Faking' has an interesting rhythm, some nice piano work and some great vocals. The lyrics on offer here never seem contrived or cliche, which is maybe what makes it such a breath of fresh air in a genre I'm finding increasingly stale.
Dropout Dan shows more promise on 'Sentimental' a track with some great lyrics that made me feel nostalgic for the days I was in a band. The addition of strings here makes the track truly stand out on the record and is definitely the best track on 'Forever Instead'.
The record closes out with 'Like The Stars', a reverb laden track, that leaves a lasting impression. Imagine if Park had released an acoustic record, 'Like The Stars' would fit perfectly on it. The decision to add these lush, ambient background's was a really great one. They add depth to the tracks and I found myself discovering new things to like on each listen.
Overall then, this was an interesting record that will certainly be getting some repeat listens. My only criticism is that I wish it lasted a little longer! Infact it left me wanting a full length of Dropout Dan's songs. What's on offer here is a refreshing take on a well worn genre. As long as Dropout Dan continues releasing interesting music like this, he should go far.
4/5
'Forever Instead' by Dropout Dan is released on 14th February on Anchor Music.
Dropout Dan links: Website|Facebook|Twitter|Bandcamp
Words by Ryan Clayton (@clayton_ryan)