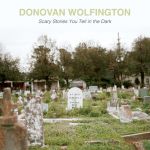 The latest release from Donovan Wolfington isn't really an EP, more a collection of unrelated tracks, clustered together like awkward guests at a party. While you'd expect this disjointed nature to be off-putting, it all seems to come together after a few listens, resulting in an EP that is both fresh and familiar – a wonderful juxtaposition of opposites.
'Scary Stories You Tell in the Dark' is undoubtedly a chameleon record. Opening track 'Sleeping' leads you to believe you're listening to a Front Bottoms-esque indie release, with a slick intro and lulling, muddy male and female vocals, before your sense of security is ripped away by 'Qutting', a track reminiscent of later Brand New,  with screaming vocals, amazing guitar work and a strong post-hardcore sound. Donovan Wolfington are not a band with a comfort zone, and this is what makes them great. 'Keef Ripper' switches styles again with up-tempo pop rock, yet despite this none of the styles seem forced; in fact their fluidity makes each song interesting in its own right.
Scary Stories You Tell In The Dark by Donovan Wolfington
Of course the problem with mixing genres and styles in this way is that some songs work better than others, and when the songs rely more heavily on the interplay between male and female vocals, the quality tends to suffer. 'Alone' and 'Hey Alex' will draw unavoidable comparisons to Tigers Jaw, and despite being great songs, the reality is that the female vocals seem superfluous.  
Donovan Wolfington favour simple song titles and lyrics, but their beauty is within the simplicity. Lyrics such as "I wanna feel bad, I wanna self-destruct, I'm gonna blame it all on you" and "I mean all the things I say. Always" aren't going to give Morrissey a run for his money, but when the current trend is to shoehorn literary metaphors into every title and verse, it's a refreshing change.
While not everyone will appreciate the transient nature of 'Scary Stories You Tell in the Dark', it's muddy sound and interchangeable styles are what makes it stand out as one of the most unique releases of this year. 'Scary Stories You Tell in the Dark' sounds eerily familiar and yet nothing you've ever heard before, my only complaint is that it's far too fleeting.  
5/5
'Scary Stories You Tell in the Dark' by Donovan Wolfington is out now via Topshelf Records.
Donovan Wolfington links: Website|Facebook|Twitter|Bandcamp
Words by Jay Sullivan