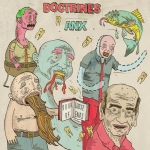 Manchurian quartet Doctrines are gearing up to release blistering album 'ANX' this coming May, which follows the release of their EP 'O This Body Of Mine, I Renounce You Your Style Is a Crime' in 2011.
'Daydream', which is free to download from their BandCamp now, features punchy riffs and coarse, husky vocals. Tracks such as 'Meatlump' and 'Teeth' are truly alive and kicking; tightly tuned drum work and killer riffs are teamed with roaring vocals that twist around eardrums.
'Waiting For the Next Thing' and title track 'ANX' are mighty, strong tracks. Biting riffs pull you in, while a killer bass helps build upon the skeleton of these strong tracks – this is also demonstrated in 'Perpetual Motion Machine'. Lulled in with a slowed tempo, the track quickly builds up speed, crushing frenetic adrenaline with crushing riffs.
However, closing track 'Aim In Aim' just grinds your gears. The raw and abrasive vocals don't suit this slowed down, almost-acoustic track and it takes all my strength not to violently shut down my iTunes.
Doctrines have made a pretty solid album, but I wouldn't willingly pick up 'ANX' if faced with the choice to do so.
3/5
'ANX' by Doctrines will be released on 6th May via Alcopop! Records.
 Doctrines Links: Facebook|Twitter|BandCamp|SoundCloud
 Written by Jess Tagliani (@JessTagliani)