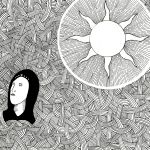 Direct Effect is a raw and noisy hardcore punk band. Their latest offering, 'Sunburn', is an album of 13 noisy hardcore punk tracks. Torn through in next to no time with plenty of screeches and distortion. It's a beauty. Each track a cacophony of desperation and driving drums: a wall of noise both simple and gigantic. 'Permanent Vacation' comes at the beginning, 'Thoughts of Honey' at the end. Between the marks is an onslaught.
'Unknown Disorder' opens with a cry and grows only brasher. 'Solar Flare' sounds like a collapsing star; a beautiful disaster that roars by with no concern for the onlooker. Often, as 'Yo No Quiero' will attest, the chaos comes clean, and a solo breaks the howls to provide unexpected clarity by a further level of noise. 'Moderate Rock' somehow finds more speed before falling away at the bridge into a pounding drive.
'Nostalgia' highlights what could be construed as 'Sunburn's biggest issue: its perhaps too repetitive nature. There's a similar vein running through the drums that could be picked up on here. The vocals again drop and soar like those of a man on fire as they do in every track. The feedback could at times be too much. But fuck it. This album is gone in the blink of an eye. That blink driven by the enormity of all sound piling through your headphones and turned up well past 11.
Direct Effect pull no punches. There is no attempt to make 'Sunburn' a pretty record. No attempt to clean up or to show another side. The complexities of all human emotion are in here somewhere, played loud and free. Everything packed in. It is furious and loud, screaming out from beneath a sea of feedback and despair. I'm sick of hearing balladic sadness and marching rage. It's usually better just to lay it out true. A clusterfuck of sound was never so endearing.
4/5
'Sunburn' by Direct Effect is out now on Tiny Engines.
Direct Effect links: Facebook|Twitter|Tumblr
Words by Thomas Knott (@thislifeishuge)