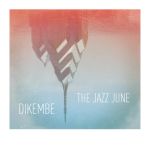 Less of a split release than a torch-passing of sorts, this collaboration between Dikembe and The Jazz June is a convergence of first wave emo and whatever wave the "revival" is currently riding the crest of. Philadelphians The Jazz June are the experienced old heads in this scenario, having been together since 1996, whereas Gainesville, FL's Dikembe are the new(er) kids on the block, this release following on from their 2012 debut full-length 'Broad Shoulders'. Both bands put their best foot forward on this split, displaying the kind of rude health the emo scene finds itself, whether the bands be old or new.
Split by Dikembe / The Jazz June
Representing the Tiny Engines label, Dikembe kick things off with 'Healer Of The Pride', a track that portrays the more atmospheric, ambient side of the band, much like a more dynamic version of Minus The Bear. The Jazz June's contribution to the release is a far more raucous affair – the band announce themselves as back with a bang after 12 years out of action, coming off like a cross between Christie Front Drive, Braid and Superchunk; 'Over Underground' sees TJJ in fine fettle ahead of the upcoming release of their fifth album.
While the two bands have very contrasting styles, the release comes together well, and will help both bands remain at the forefront of attention in what is fast becoming a rather oversaturated scene. Of the two tracks present, I personally prefer The Jazz June's offering, but as this release won't exact more than 5 minutes of your precious time, it's well worth investigating for yourself whether I'm right or wrong.
3.5/5
'Split' EP by Dikembe and The Jazz June is out now on Tiny Engines and Topshelf Records.
Dikembe links: Bandcamp|Facebook|Twitter
The Jazz June links: Facebook|Bandcamp|@olliexcore)