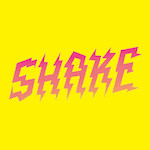 By now Baltimore/Chicago quartet Diamond Youth are no more the side-project they were once known as. Having shaken of that tag and having seemingly become a full-time band, 'Shake' marks the bands second release on Topshelf Records and sees the band continue to move away from their harmonious Jimmy Eat World-esque sound of their earlier releases, towards a more alt-rock flavour that is reminiscent of early Foo Fighters material.
Whilst early tracks like 'Red Water' and 'Can't Shake This Feeling' aren't as instantly favourable on first listen, the bands shift in sound is fitting with the latter taking a fuzzy, garage rock approach whereas as the former is a lively, upbeat number that somewhat bridges the gap between past releases with the bands high-pitched, melodic vocals.
Next up 'Don't Feel Real' takes a simple, sombre approach with lovelorn vocals from Justin Gilman, and soothing backing harmonies which ultimately show the band's versatility.
'Warm Scene' brings the EP back to life with an onslaught of powerful guitars and drums and gritty vocals. Whilst there's a hint of 60's pop-sensibilities amongst the bands grunge-y alt-rock sound, thus giving the band an unintentional Queens of the Stone Age comparison, something that comes back on the hidden track – 'Copy Cat'.
However before that is 'Maryland Ice Cream', a 50 second blast of balls-out punk that (technically) closes the EP on a high. The aforementioned 'Copy Cat' serves more as an somewhat experimental track that highlights the bands strong use of harmonies, yet nicely ties up this EP.
Whilst 'Shake' may not win over new fans, there is another substance here to keep current fans interested in Diamond Youth. The band's more grunge/alt-rock sound comes off as natural progression and suits the band well. It's a collection of well-thought of songs that manages to keep you listening repeatedly, yet its downfall is that it lacks a standout track. Nevertheless, the clever use of variation give ways to an applaudable cohesiveness that Diamond Youth deserve credit for. Ultimately they still belong as a band to watch out for, as its clear with 'Shake' that Diamond Youth will continue to evolve.
3/5
'Shake' EP by Diamond Youth is out now on Topshelf Records.
Diamond Youth links: Website|Facebook|Twitter
Words by Sean Reid (@SeanReid86)