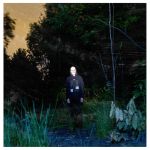 It's always exciting when two of the UK most talked about bands are set to release a split together and when I heard about the Departures and Moose Blood split it was no exception. Departures have been making waves across the pond for just over a year now with the release of their second LP 'Teenage Haze' on No Sleep Records back in 2012, and their popularity both in America and back home in the UK has only been on the rise since. Moose Blood, on the other hand, were nothing more than a few riffs and lyrics in vocalist Eddy Brewerton's head back then, having not yet properly formed and released any songs until the latter half of 2012, before releasing their debut EP through Fist In The Air Records earlier this year. From there, the instantly favorable reception to the EP scored them a four-day mini tour with Funeral For A Friend and Gnarwolves. How can a band tour with Funeral For A Friend the same year they put out their very first EP, you ask? Quite simply because they are very, very good.
The split is kicked off with the heavier selection of songs, which is of course supplied by Departures. Although, it's probably worth pointing out that the Departures side is every bit as emotionally fuelled as the more indie/emo sound we get from Moose Blood. In fact, if I'm honest the only real difference between the songs from each band on this record, in terms of listening, is the vocals – as we find out when Moose Blood singer Eddy features on the first Departures track 'A Song For The Sunset' and manages to fit in perfectly. So much so that I would say this is one of those rare occasions where a guest vocalist actually adds something to a track, which if you think about it, really doesn't happen too often. It was at that moment I realised that these bands aren't really as different as they seem on paper. 'A Song For The Sunset' is, as you would expect from Departures, a perfect execution of their particular brand of emotionally fuelled hardcore that you should all be used to by now. Although, I feel like mentioning hardcore, when talking about how Departures' sound, might really be doing them a disservice. I mean, as I said before, on paper they are a hardcore band but I just feel like there's so much more to them than that. The No Sleep Records website quite rightly quotes, when talking about their album 'Teenage Haze' ,that it is "a hardcore album written by a band that doesn't listen to solely to hardcore", and that is the exact feeling a get from their two tracks on this record.
When we move on to their next song, 'Closing Doors', my only gripe is that other than a change in tempo both songs are, although good, extremely similar. I could be wrong but as I'm listening, it seems like the structure of the songs are almost the same and when you can't really execute different vocal styles throughout each track (vocalist James McKean sticks to more or the less the exact same style across both tracks) your songs have a danger of all blending into one. Which is, I assume, why they borrowed the vocal abilities of Eddy for a section on the opener of this split – to change it up a bit. That would suggest that Departures are aware of the danger of their songs sounding too similar, but also aware of how to avoid that happening, which fills me with confidence ahead of their next release, whatever it may be – especially if they can keep up the quality previewed on these two songs.
Moose Blood's side is introduced with the song that seems most familiar out of the two compared to the songs found on their previous releases, 'Stay Here'. Although I'm sure it's almost completely coincidental, I get a huge older-era Blink-182 feel from some particular parts of this track. I know you're probably expecting comparisons to Tigers Jaw or something along those lines, but I tried to look a little further than that so hear me out. It starts with the drum pattern supplied by Glenn Harvey on the first verse. It's only short, but that kind of half-timed drum pattern screams Travis Barker whenever I hear it, and it's a welcome accompaniment alongside the rhythm guitar and vocals, helping them lead into the second part of the first verse. As we move through the track we get to a bridge towards the end which also sounds to me like something that wouldn't be out of place on a Blink-182 record, once again though I feel like it's down to the drums more than anything else. In between the previously mentioned sections, we're given exactly what we've come to expect from Moose Blood. Lyrics (which I'll go into more detail about in a second) about girls – or a girl, at least – twangy guitars with simple yet effective lead lines, and the layered vocals that I feel complete Moose Blood's sound perfectly. They're seemingly picking up where they left off from previous release 'Boston / Orlando' without too much change, other than what I personally feel is a production job that better suits their style. In the least negative way possible, I feel that with this song in particular there isn't really much progression. By which I mean, it could be swapped for any song from either of their previous release and I don't think it would upset the balance of either release. At this point in their career though, I don't feel there's much need for them to change what they're doing. It's working and it's working well, so I can't blame them for carrying on with it – especially as they're managing to still keep it interesting, which actually could be seen as progression in itself.
In comes track 2, 'Girl', which introduces us to a bit more of a stripped back version of Moose Blood we haven't really heard before. The track clocks in at only 2 minutes and 40 seconds, over half of which is taken up by just vocals and guitar until the full band comes in to add some emphasis on the final chorus. On top of that fact that the intro isn't really something we've heard from them before, even when the full band comes in they seem to be doing something a little different too. It would have been easy for the band to stick something on the end of the track that sounds exactly like something they've already done. It wouldn't have sounded bad by any means, but it would have definitely taken away from the song, and personally I feel the decision to go with something a little better thought out paid off big time in making this track the stand-out song across the whole record.
In summary, the split flows way better than I would have thought it would on paper. I honestly thought these bands were two polar opposites when in actual fact this record has made me realise that they're really not that far apart. Moose Blood's closer 'Girl' just about steals the spotlight, but I wouldn't by any means say that either side outshines the other on the whole. It's a well balanced, well written and thoroughly enjoyable split EP that has made me very excited to see what both these bands have to offer next.
4/5
'Split EP' by Departures and Moose Blood is out now on No Sleep Records and FITA Records.
Departures links: Tumblr| Facebook| Twitter
Moose Blood links: Bandcamp| Facebook| Twitter
Words by Joe Hart (@nottheJoeHart)