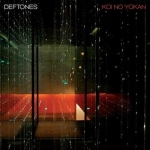 For us so-called music critics, November is usually the time of year when we start compiling end of year lists and we normally have a rough idea of what will make our final list. 2012 is no different, I was pretty certain what albums I wanted in my list. And then Deftones released 'Koi No Yokan.'
Over their twenty four years together and seven full lengths, Deftones have managed to be consistent yet progress at the same time eventually leading to the cinematic-sounding, powerful (near) masterpiece that is 'Koi No Yokan.' Mixing heavy, sharp riffs of their early days with their dynamic, atmospheric approach of recent releases, the Sacramento band have produced a late but definite contender for album of the year.
Opening with the bursting 'Swerve City,' deep riffs and pounding drums compliment Chino Moreno's swirling, distorted vocals creating a confident start. Whereas 'Romantic Dreams' and 'Poltergeist' has that familiar Deftones sound; focused, heavy with an underlying buzz and Moreno's soaring vocals, which adds a cinematic-feel to throughout.
One of the reasons 'Koi No Yokan' is so brilliant is that it offers stunning moments like 'Entombed,' which clearly shows the bands expansive sound as it glides through Moreno's once again becoming a highlight whilst subtle atmospheric guitars and keys delicately lead the track through.
Whilst recent single 'Leathers' encompasses everything that is great about 'Koi No Yokan' with its slow build-up giving away heavy, powerful blasts of sharp riffs. Equally 'Tempest' is as enthralling with its spacey build that eventually thrives off the bands experienced musicianship and their complete willingness to explore new ideas, something which can be said for the whole of 'Koi No Yokan.'
Not since 'White Pony' have Deftones produced such a concise, focused record that demands attention from start to finish. 'Koi No Yokan' somehow leaves you in a euphoric haze, and at times memorized as the quintet's sheer ambition and seamless collective work pays off huge dividends. The end result is a bold, engaging record that resonates with warmth and subtle grandness. A career highlight.
5/5
'Koi No Yokan' by Deftones is available now on Reprise.
Deftones links: Official Website|Facebook|Twitter|Youtube
Words by Sean Reid (@seanreid86)