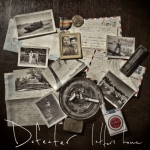 "I hope this letter finds you well!" roars Derek Archambault to kick off Defeater's third and finest album, 'Letters Home'. What follows is an unrelenting assault of passionate, desperate hardcore that borders on the heartbreaking and never lets up. Not only is this record a prime example of emotional grit, it's also a gloriously crafted collection of songs.
Take 'No Faith' as an example, throughout which the guitar is impeccable. Nothing too clever for its own good but continuously smart, full of interesting progressions that add layer after melodic layer to a beautiful piece of music. Then there are the drums carrying 'Dead Set', heavy and intense, somehow anchoring the melodic aspects of this aggressive track into yet another borderline anthem. Indeed, Defeater's rhythm section does a flawless job throughout. At those times in which everything is swaying to an even more abrasive sound, the bass and drums hold everything perfectly in sway and never allow a track to become messy. 'Hopeless Again' is one such track; at times feeling as though it might break the boundaries and career off into the overtly discordant sunset but ever held in perfect check.
<a href="http://bridge9.bandcamp.com/album/letters-home" data-mce-href="http://bridge9.bandcamp.com/album/letters-home">Letters Home by Defeater</a>
Closing track 'Bled Out' is the pick of the bunch though. Even at six and a half minutes long it loses none of the intensity built up throughout the album. The closing refrain; "All I see is that bastard in me" is a haunting call back to opener 'Bastard.' Concluding the album in a way that makes the stories throughout feel tangibly complete.
It wouldn't be right to finish up this review without mentioning Archambault one more time. The vocals throughout 'Letters Home' are next level and something that any and all vocalists could (and should) aspire to. His performance is absolutely breathtaking, coarse but packed with melody, angry and yet touching on unfathomable levels.
How Defeater managed to pull together such a captivating album, I do not know. But there's no doubt in my mind that in years to come this will be an album viewed with the same awe currently surrounding its arrival online.
5/5
'Letters Home' by Defeater is available now on Bridge Nine Records.
Defeater links: Facebook|Twitter
Words by Tom Knott (@nounandthenouns)