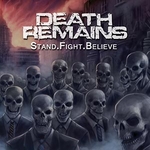 This is more than just sheer technical brilliance. This is passion. "This is DEATH REMAINS" is just one of the modest claims that adorn the London metal outfit's Facebook page, a tool that manages to be informative, incredibly cheesy (see: the above quote) and more than a little self-satisfied. Observe as the band, or perhaps their ill-informed PR managers, share their sharp observations and scathing criticism of the scene they belong to: 'This is the new generation of British youth employing crushing rhythms and devastating riffs, injecting life into a genre plagued by rip-offs and wannabes'. The irony, I hope, isn't lost on anyone. Indeed, though, what could be more revitalising to a genre almost entirely founded on the combination of devastating riffs and crushing rhythms than MORE DEVASTATING RIFFS AND CRUSHING RHYTHMS? Were we to assume this to be correct, then Death Remains' debut album 'Stand. Fight. Believe' should certainly prove the crux of a renaissance of British metal.
This refreshing new wave of great metal, the pioneers of which the quintet claim to be, is however nothing but an artifice. Don't get me wrong, Death Remains can justifiably boast of a certain technical prowess, they deliver 'THE HEAVINESS' with aplomb and a healthy consistency (though they're not unwilling to indulge in instances of melody), but these are only the preliminary foundations necessary for the making of good metal. Great metal requires going at least a little further than the bare necessities, a distance the band seem unwilling to cover. The album feels closer to topping up gas for your reliable Volvo than abandoning yourself to the exhilarating experience of high speeds in your spanking new sports car (I imagine).
The band are perhaps at their most anthemic on 'Blood Brothers'. Lightning-fast snare work opens fire, the riffs 'chuggah' their way through with power and intensity while O'Connor's interesting work of 'not quite growl, not quite clean' (for which I give a major thumbs up by the way). There's significant brutality here but it's also effortlessly blended with a rousing chorus that'll immediately latch onto your memory. 'The Northern Massacre' strays a little from traditional song structures to indulge in an 'early-eight' if you will, that channels Defeater-esque levels of despair.
The major highlight on 'Stand. Fight. Believe' is undoubtedly ante-penultimate track 'Innocence'. Whereas most, if not all, of the tracks on the album open all cylinders firing, 'Innocence' delays the sonic collision with a little build-up, before unleashing both pace and anger with gusto. The reality is there's little to complain with on this album. The tight musicianship, physical brutality, soaring choruses, make it one perfectly spot-on run-of-the-mill metal album. Refill the Volvo, go to work, tape Doctor Who, listen to some metalcore, sleep, die.
3/5
'Stand. Fight. Believe' by Death Remains is released on 4th November on In At The Deep End Records
Death Remains links:Twitter Facebook
Words by James Berclaz-Lewis (@swissbearclaw)