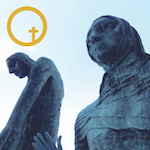 If you're familiar with the work of Whirr and Nothing, its no surprise that Death of Lovers' 'Buried Under A World Of Roses' is a short, concise collection of downtrodden, ambient numbers that is crushingly depressing.
From the start, the quartet have clearly been influenced by the likes The Cure and Joy Division resulting in 'Cold Heaven' setting the band's haunting and swirling style straight away. As vocalist/guitarist Domenic Palermo cries out "Who played this joke on us?", his words are met with a crash of bombastic drums and shimmering guitars which somewhat leave you wanting more.
'Shaken' is equally as haunting with its slow synth keys and simple, plodding drum beat complimenting Palermo's laid back, atmospheric vocals. Its a strangely compelling combination that leaves you in a daze. However compared to the other tracks found on here, 'Shaken' comes off as the weakest.
The title track sees the band at their most dynamic, with the 80's goth sound being an influence once again. 'Buried Under A World Of Roses' ebbs and flows between the verse and chorus, with buried drum work allowing the band's synths and guitars to take centre stage throughout. The end result is the EP's most melodic and brightest point.
The concluding 'The Blue of Noon' sums up what Death of Lovers are about. With its subdue and fractured tone along with its plodding tempo, the track is hauntingly yet beautifully compelling.
Admittedly on first listen 'Buried Under A World Of Roses' is nothing more than a short set of ambient, synth-led depressing songs that are easily forgettable. However on further listens, you discover there is character and variety is these four songs that ultimately having you wanting to hear more. Sure, the band's style isn't upbeat nor catchy, but Death of Lovers make up for it by producing an EP that is subtly beautiful.
3.5/5
'Buried Under A World Of Roses' by Death of Lovers is available now on Deathwish Inc.
Death of Lovers links: Website|Facebook|Twitter|Bandcamp
Words by Sean Reid (@SeanReid86)