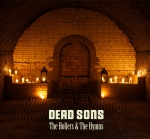 Remember that time when "guitar music" (a ridiculous moniker) was prominent in the UK mainstream charts? You had bands like the Kaiser Chiefs, Razorlight and The Arctic Monkeys at the forefront at some type of supposed "revival."  Dead Sons share a couple of things in common with the latter; both bands hail from Sheffield and both have a similar sound… sort of.
Dead Sons have that raw indie, punk vibe about them, a mix between spoken and sung words, quirky and fuzzy guitar riffs and a consistent driving pace of the songs. It is a sound that has been done countless times but Dead Sons are doing it well enough to make it credible. 
As well as the obvious (and probably overused) comparison, Dead Sons also have one of the best guitar sounds I have heard for a long time; they have some brilliant riffs (and I love me a good riff) and their music is catchy. 
'Ghost Train' is a driving opener; heavily based around the consistent pounding 1-2 drum beat, it has the heavily accented vocals prominent throughout the release and the wacky instrumentation, giving it a slight psychedelic punk crossover sound. It is a sound common throughout the rest of the release, however to leave it just there would be ignorant; this album contains some cracking songs.
Take for example 'Bangonfullturn'; a song which vocal lines ooze and the guitar line demonstrate a brilliant minimalist sound, with a repetitive riff at the end each of line it adds another hook to the song. It is a personal favourite and one which blends the sounds of the Arctic Monkeys but also reminds me of Queens of the Stone Age as well, of course if QOTSA came from Sheffield…
Following on 'A Love As Good As Yours' has a 3 or 4 chord punky riff as the backbone of the song which is accompanied by some brilliant guitar solos to decorate what would be considered a standard almost boring riff. 
'Hangman' is in a similar vane, it has a simplistic riff but it is the decoration and the way it is played, you can feel the rawness in the track and the heavy drum beat which is again prominent and provides a brilliant hook. Things take a twist and a complete riff overload ends the song on a high, it would be brilliant to hear live and has that level of "heavy" this genre can achieve.
'Temptation Pool' is melancholy in comparison but it shows a level of diversity I suppose and an album needs and provides for some subtler moments.
The album contains again more and more riffs and as already said, it is a consistent piece of work. It has punk undertones, with that indie "revival" of the early naughties, but it has that little bit more to it which makes me like this release; it has great riffs, an upbeat feel and is quirky. If you like your rock a bit on the experimental side and are fans of any of the bands mentioned above give these guys a listen, they seem to work extremely hard and deserve any attention they get.
3.5/5
'The Hollers and The Hymns' by Dead Sons is released on 18th February.
Dead Sons links: Official Website|Facebook|Twitter
Words by Robert Maddison (@bertmaddison)