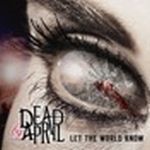 Sweden's Dead By April are a band that have, since they 'made it' into the metal world's consciousness, always just bubbled under the surface – gaining a strong fan base but at the same time never quite breaking through into being a house hold name for their genre. Perhaps their new album, 'Let The World Know', sheds some light on why that is. The pop-metal band's fusion of the traditional "Gothenburg sound", palatable hooks and electronic accompaniment hasn't changed a great deal from previous releases to this one, and as a result the album is reliable at best, downright formulaic at worst.
The album's 13 tracks are a pretty solid slog through the same repetitive ideas. Aside from the occasional guitar noodling, such as in opening track 'Beautiful Nightmare', the songs generally follow some variation on the formula of chugged riffs, EDM-style keys and an equal smattering of clean and screamed vocals, all geared towards a pop-orientated sensibility – imagine Scooter Braun getting his hands on In Flames. All of this makes for a non-so-spectacular listen in the first place, but some added elements – namely the cheesy key changes, occasional dubstep-influenced rhythms and buckets full of autotune – were enough to make me less than keen to listen again.
While not to my tastes at all, something has to be said for the band's ability to craft a well-rounded pop sound in a metal framework. From the trancey melodic-death-metal mosh fests to the piano-led ballads, Dead By April make it clear that they are in the business of making accessible metal, not watered down metal. To their credit they succeed across the board; there isn't a song on the album that feels like a compromise despite having to balance catchy choruses and punishing riffs.
From what is on display in 'Let The World Know', Dead by April have clearly honed their sound to a fine point over the career as a band. However, the side effect of this is that there is no room for any free radicals or rogue riffs that help to pop out at the listener and break from the formulaic norm. Fans of the band who don't expect their boundaries to be challenged will be right at home with this album, but there honestly isn't a great deal to attract anyone new and certainly nothing to change the opinions of anyone who has already washed their hands of them.
2/5
'Let The World Know' by Dead By April is released on 17th February on Spinefarm Records.
Dead By April links: Website|Facebook|Twitter
Words by Ben Kosma (@BenKosma)