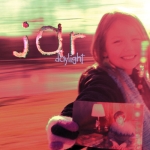 After six years as a band, Daylight have finally released their long awaited debut full length for all ears to hear and appreciate. Ahead of schedule due to an untimely leak on the internet, it can be admittedly said that the pros outweigh the cons as 'Jar' is a truly incredible dose of 90s nostalgia. A heavily influenced ode to the likes of Nirvana, Alice in Chains and The Smashing Pumpkins, 'Jar' encompasses everything that the band has built towards, resulting in something truly wonderful.
Lyrically drenched in themes of loneliness, self-involvement and mood filled reflection, Daylight utilise a grand contrast of light and heaviness. The opening drums of 'Sponge' plough into what the rest of the LP has to offer and from there one will end up hypnotised by its flow and charm. This skill and quality is found on every song; the soft verse to groaning guitar filled chorus of 'Life in a Jar', the blunt punk inspired delivery in 'Knew' and the clean mesmerising grace on 'Hole in the Ground' are perfect examples of such a magical formula.
<a href="http://daylightpa.bandcamp.com/album/jar" data-mce-href="http://daylightpa.bandcamp.com/album/jar">Jar by Daylight</a>
The finest point of 'Jar' is the mastered art of shifting dynamics, the use of soft verse and loud chorus aka the Pixies dynamic. This is evidently displayed on the huge sounding 'In on It' and 'Youngest Daughter'; in the case of the latter song, such song structure begins almost mirage like and floats effortlessly on the verse before morphing into the roaring heat filled heavy backdrop.
For what it's worth and given under the circumstances of this LP's early release, Daylight have made something out of natural growth and wonderment, a truly awe inspiring record. With a beautiful angst filled structure, 'Jar' is laid out via a slickly produced landscape that captures the band's skill in shifting and mastering both loud and light in perfect harmony. This is certainly one of the standout albums of the year so far.
4.5/5
'Jar' by Daylight is out now on Run for Cover Records.
Daylight links: Facebook|Website|Twitter|Bandcamp
Words by Aaron Lohan (@ooran_loohan)