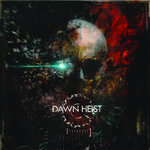 Many metal bands these days are mixing things up by adding a spice of electronic to their brutal metal tunes, and this basically sums up Dawn Heist's sound. This Aussie group claims their own unique style is groove metal infused with melodic synth, with a driving vocal tone. Simply, it's electro metal.
It's certainly a risky business, not many true metal fans are keen on this new style, but 'Catalyst' certainly does it well. The electronic symphony is bold, strong and stands out in each track – but it works and these guys have nailed it.
The group created 'Catalyst' with an interesting idea, for it to explore the concept of reality from a number of viewpoints. The tracks explore reality in three different forms, so if you give it a listen, make sure you take note of which concept you're listening too. Each song has the number of reality it represents before the title.
The album opens with 'Ascension', a brutal hit with powerful instrumentals and intense prevailing vocals. It begins slowly, but the pace soon picks up as the track progresses into a more prominent fierce style.
This follows with the already released track of 'Zenith', which provided fans with a taste of what was expected on the album. It's certainly the highlight of the album, with its thought-provoking lyrics, intense melody, hard-core screams and superb riffs. Plus the video for it is stunning to watch too.
The other recommended tracks are: 'Synthetic Zion' for its chunky riffs and spectacular rhythms; the vocals are completely mesmerising too which switches between old-school clean to deep influential screams. The other is 'Mirrors' for its dominant chorus with catchy lyrics and the talented instrumental talent showcased throughout the hit. Plus the hit includes some insane vocals.
The other songs don't cut it for me, they sound tired, weak and out of sync. However, Dawn Heist has created a powerful album that boldly represents their style and sound. Some of the tracks are outstanding, it's just a shame that the high standard isn't consistent. 'Catalyst' is definitely worth a listen for any metal fans out there that want to give the electro vibe a go!
3/5
'Catalyst' by Dawn Heist is out now on Bastardized.
Dawn Heist links: Website| Facebook| Twitter
Words by Chantelle Kelly (@Chantellekelly3)