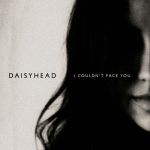 Nashville rockers Daisyhead have just released their latest EP 'I Couldn't Face You'. This small-time American quartet has only been together for just over a year, but this record shows promise for the band's glowing future.
Daisyhead have a distinctly raw and rough vibe, with choppy guitar riffs, chaotic melodies, and powerful coarse vocals. It all sounds real, imperfect and hectic; giving it a true authentic edge. The tracks feature influential lyrics, superb instrumentals, and electrifying riffs with an aggressive punky-rock sound.
The top listen is the title track, 'I Couldn't Face You', for the sing-along chorus, violent vocals and the prevailing drums. However, I have to admit whilst listening from one song to the next, there's little variation or diversity; each track runs into the next seamlessly. The EP also consists of tracks 'Numbing Truth' and 'Sun' which follow along in a similar style.
The record does have a nice ambient ending though with harmonious acoustic riffs, a slower-pace and a more emotional stance on the closing hit 'What's Done Is Done', which is a perfect ending to the EP.
Since releasing the record, the band have actually released online an acoustic version of the track 'Sun' which they have made available to listen to for their fans on their YouTube channel.
Overall, it's not a bad 14-minute effort, all the ingredients are there to produce wonderful punky-rock authentic music – it's just yet to be perfected. All four tracks are just simply good, nothing amazing or spectacular, but good.
2/5
'I Couldn't Face You' by Daisyhead is out now on Spartan Records
Daisyhead links: Website| Facebook| Twitter
Words by Chantelle Kelly (@ChantelleKelly3)