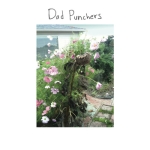 Despite a gruelling tour schedule as drummer of Post-Hardcore heavyweights Touché Amoré, Elliot Babin has somehow found time to put together this absolute stunner of an album. This self-proclaimed 'bummer punk' record, Babin's Dad Punchers' eponymous début is, frankly, wonderful. With Joyce Manor's Matt Ebert providing bass guitar and backing vocals it's easy to view Dad Punchers as some sort of supergroup; a little bit on the side to keep tireless minds busy – but that would be unfair. Dad Punchers deserve to be so much more than just "that guy from Touché Amoré's other band" because this is an entirely different beast. Certainly, many of the same emotions are present: desperation, loneliness, and nostalgia in abundance. Musically and lyrically however, Babin has created something refreshing, cause to wonder how any one man could have so much going on artistically – on the one hand an incredible heavy drummer, on the other an emotionally crippling singer/songwriter.
Opening track 'Tire Swing' wastes no time and simply comes into being at the top, opening notes wrought with passion, setting the tone for everything that follows – this is raw emotion, devastating nostalgia. Babin's stellar guitar, vocals, and drum work are helped along by subtle bass playing just big enough to take the stage without ever over powering its lead performer.
<a href="http://sssealegs.bandcamp.com/album/dad-punchers" data-mce-href="http://sssealegs.bandcamp.com/album/dad-punchers">Dad Punchers by Dad Punchers</a>
Throughout, 'Dad Punchers' is the perfect complementation of heartbreaking musicianship and vocals. Whether in slower songs like, 'Cul De Sac' or fast and driving tracks as heard in the first half of 'E. Coli', Dad Punchers' music is perfectly weighted. 'E. Coli', for example, could easily be played by Babin alone with an acoustic guitar, with his day job, Touché Amoré, or with full orchestral backing, so intelligent is the song writing. It's an enormous track that lets itself into your mind, drops its shoes neatly by the door, and begins testing your porridge and beds. 'Dad Punchers' showcases that special kind of songwriting artistry, wherein it feels as though the music has been given as a gift for the listener to do with what they will.
'Dirty Dishes & The Mold' is, if I were forced to pick one, my standout track. Coming alive with rough sounding guitar work and strong drums before slowing into a wonderful, bass-driven verse. The album's finest chorus is found here; fantastically catchy without ever becoming predictable or inelegant, simply a fantastic, touching song. Closer 'Self-Loathing' is strong enough to wrap things up. Again Ebert's bass playing sits perfectly in back, giving a punk rock groove to Babin's flawless musicianship. As the track falls to a last breakdown and Babin shouts over the top it's clear Dad Punchers' work here is done.
That this is essentially a one-man project is absolutely astounding. It's rare an album ends on a track so strong or beautiful. It never lets up, not for a second, its emotional intensity and drive. The melody of the last pounding chords make it almost impossible to not replay the record immediately and being so short the songs begin to sound like familiar favourites without ever losing their brightness.This album is brilliant, lovely, intense, sorrowful, happy, sad, nostalgic, and just about everything else in the emotional spectrum. This is music.
5/5
'Dad Punchers' by Dad Punchers is available now on Sea Legs.
Dad Punchers links: Bandcamp
Words by Thomas Knott (@nounandthenouns)