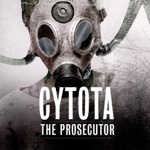 Meet Cytota, a five-piece that have been lucky enough to share stages with the likes of Funeral For a Friend, Rise To Remain & While She Sleeps. The quintet is making their mark on the scene with their new release 'The Prosecutor'. 
Opening track 'Between Jokers and Jesters' concentrates on the metal and melodic post-hardcore influences that the five-piece initially base 'The Prosecutor' on, with vocalist Joby Fitzgerald offering his dark sounding screams, combined with crisp sounding guitar and rapid drums. The chorus in this track is particularly catchy and easy to sing along to, an infectious element that holds the sections of the song together nicely. The next two tracks: 'Absorption' and 'Preparing for the Worst' keep up with the heavier metal and melodic post-hardcore influences and make up quite a defined sound for the first half of the record.
'Hold Back'  and 'Scars' begin to define the second half of 'The Prosecutor,' slowing it right down and experimenting with slower tempos; almost to be defined as melodic rock. I feel like these tracks seem out of place amongst the predominantly heavier sounds that open 'The Prosecutor' and if I didn't know any better I would have thought I was listening to a completely different band. Nonetheless these types of tracks are maybe the best on the record, exploring and concentrating on much more melodic sounds and barely touching upon metal and post-hardcore influences.
'Recidivist' continues with this melodic trend but brings back some of the metal elements in places. Cytota manage to combine a good mixture of the two variations, including a very infectious breakdown section in the middle of the track heading straight back into a slower melodic tempo.  This continues with final offering 'The Closest Thing (To A Hug Is A Headlock),' the longest track on the record and a great way to round off 'The Prosecutor.'
Cytota have talent, they have passion for their music and I imagine that these tracks would sound great live and really get the crowd interacting with the five-piece. It took a couple of listens for me to fully appreciate what the band had to offer and although I was less impressed on first listening and there seemed to be a lack of focus on genre, 'The Prosecutor' just needed my patience to make me realise that Cytota have in fact produced a very praiseworthy record. The five-piece certainly suit the slower, more melodic areas of their genre and if they had focused on this all the way through then 'The Prosecutor' would have made for an even more admirable release. 
3.5/5
'The Prosecutor' by Cytota is out now on Believe Revolt.
Cytota links: Facebook|Twitter|YouTube
Words by Hannah Gillicker (@HannahGillicker)