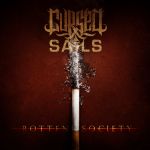 If there's a criticism that can be levelled at the vast majority of hardcore, post-hardcore, and heavy bands in general, it's that they tend to take themselves far, far too seriously. Looking to change that reputation are Rise Records' latest addition, Cursed Sails, featuring former Woe Is Me members Ben and Corey Ferris, and their debut release 'Rotten Society'. The band are intent on creating heavy music capable of making their fans crack a smile, revelling in dumb humour, foul language and excess.
This is a pretty cool idea in theory, but in practice is more than a little flawed. By its very nature, hardcore rock is angry and in your face, fun is one feeling it just doesn't scream. Part of the problem with this is, well, screaming. Ben Ferris' vocal delivery is one of all out of attack, and while it may be forceful and full of feeling, it also means that a good 80 percent of what he is saying is near indecipherable. He could be dropping the best one liners and wildest booze fuelled anecdotes imaginable and you would struggle to notice.
This all-out attack mentally sums up the instrumental side of Cursed Sails too. Every instrument is at full throttle all of the time with absolutely no respite. Initially the sonic chaos created is pretty fun and enthusing, but very quickly becomes grating. None of the parts are given room to breathe or establish themselves, meaning for the most part, the guitars and bass could be playing pretty much anything within the cacophony of sound.
The pick of a somewhat indifferent bunch is the final track, 'Smart Ass', an ear drum imploding party song about great friends, good hangs and the carnage that this can lead to. On this track, all of the above criticisms suddenly just don't matter, everything clicks. Suddenly Cursed Sails aim of grin inducing, euphoric heavy music with no hang ups and no self- awareness, or restraint doesn't seem quite so far-fetched, or unworkable.
Worth a shot if you like the idea of heavy music with a sense of humour, no sense of impropriety or morals and a drinking problem. However, Cursed Sails will likely struggle to stand out from the already crowded scene, even within the band's on their own label.
2/5
'Rotten Society' by Cursed Sails is out now on Rise Records.
Cursed Sails links: Facebook|Twitter
Words by Dane Wright (@MrDaneWright)