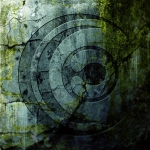 Crossfaith are the latest band to be signed to UK label Search and Destroy, home to acts such as While She Sleeps and Don Broco. Mixing Metalcore with electronica Crossfaith are an interesting act, sort of heavier than Enter Shikari but with just as much dance music influence… I think.
Hailing from Japan, Crossfaith have been going for a lot longer than I had imagined (2006 in fact) however I think their presence in the UK is fairly new. Having just toured with label mate WSS it has also been announced that they will be playing with British heavy weights Bring Me the Horizon on their April and May tour. Crossfaith may not be for everybody but they are certainly going to be making an impression in the UK this year.
On with the EP, 'Zion' is 6 tracks of electronic-infused metalcore; now it is an EP which doesn't have those ridiculous break downs of pop like beats. The samples and programmed parts used in this EP are used in conjunction and with the typical band set up. Honestly, I still don't quite know what to make of this fusion.
Opening track 'Monolith' is a massive soundscape of chugging guitars and over the top sampled sounds; seemingly adding to what could be considered a pretty bog standard guitar riff. It's an interesting blend which just seems to work.
To be honest, the EP carries on in this way, the standard metalcore formula is built upon with the use of samples and programming meaning a whole host of dance/mosh crossover tracks. 'Jagerbomb' has a great opening riff, it's fast and frantic, it is then layered upon with some more electronic noise to add to it (I wouldn't say it spoils it by the way). It is a fast, frantic track with a kind of bounce to it. A pretty standard breakdown let's the track down a bit later on but it works in context with the track.
'Quaser' has a pretty cool spacey touch to it during the chorus which adds to the atmosphere of the track, however a certain overuse of the electronics spoils it slightly in my opinion. 'Dialogue' is the obligatory all dance track which you could hear in some club somewhere with people raving away not knowing this is actually the product of a metal band. Closing track 'Leviathan' is similar to the opening of the EP; heavy infused intro, fast and frantic in the verses, a breakdown with what you could call that signature bounce, followed by more breakdowns. It's a good ending though, Crossfaith have a style and they stick to it.
All in all this take on metal confuses me; I won't lie, I think it is music aimed for a slightly younger audience however there is nothing wrong with experimenting and I can get on board with that. Crossfaith are going to be hitting up a number of places around the UK this year and this brand of music is definitely for the live circuit. It is going to split people down the middle, some are going to loathe and detest this, others will love it; for me it is a group of people taking their own spin on the metal genre.
3/5
'Zion EP' by Crossfaith is available now on Search and Destroy.
Crossfaith links: Official Website|Facebook|Twitter
Words by Robert Maddison (@bertmaddison)