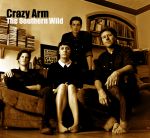 A few months ago, I did an interview with Tim Barry; towards the end of that interview we discussed his folk influences. Barry described such a genre as the "comfort food of the three chord structure". Based on this new acoustic offering from Devonshire quartet Crazy Arm, his statement couldn't be truer. After receiving a positive reception from the band's acoustic tours, Crazy Arm have gone back to basics, resumed the rockier side of their output, and have created something softer without losing a sense of thought provoking sincerity.
'The Southern Wild' sees the band vary in certain styles that are within the folk and roots genre umbrella. 'Don't Be Cruel' rides along a banjo in full bluegrass clawhammer style, whilst 'Remembrance' stands in a glow of 60s protest. A definite highlight is with the two part combo that is the first track; 'Oh Death' takes you along an a-cappella road towards the chain gang union held in 'Hell To Pay', complete with hand claps. The final track 'Black Canyon' has a dark, but hopeful feel to it as it rails off from folky traditions to a dwindling piano orchestrated finish.
From start to finish, this LP is a politically/socially driven folk record through and through. The co-operative vocals between Darren Johns and Vicky Butterfield are touching to hear. Along with the strummed notes from the guitar and the other accompanying instruments including fiddle, piano and banjo, the background is calming and eases you into the messages within the lyrics.
Speaking of the lyrics and themes, Crazy Arm continues to not shy away from matters that concern them and most importantly everyone else. The aforementioned 'Hell To Pay' and 'Remembrance' acts as tribunals to those who are rarely praised in their efforts/struggles; the former for the women of the working class and politically motivated, whilst the latter praises the radical activists who fight for liberty and equality.
However, the band is at their most sincere when they wrap such themes in their own personal perspectives. The two following examples illustrate this perfectly. 'Fossils' acknowledges a struggle to adapt in an ever changing world of ideas and behaviours, whilst 'A Pocketful Of Gold' revels in reflection and self-acceptance of one's life and self.
'The Southern Wild' is a wonderfully crafted album show casing the softer nature of one band, whilst remaining consistent in their thought provoking messages. Crazy Arm keep a punk rock bite, but strip themselves back to their folk and country roots. It is lyrically thought provoking and sincere; it puts a sense of calm into the listener which enables them to take in the messages and honesty that are present. Whilst it'll be indefinite while till we hear of a third rock album, especially since the band have had to restructure themselves since losing two members over the past year, 'The Southern Wild' is a mighty fine taster from one of the UK's most promising bands in the music scene.
4/5
'The Southern Wild' by Crazy Arm is out on the 23rd September on Xtra Mile Recordings.
Crazy Arm links: Facebook|Twitter
Words by Aaron Lohan (@ooran_loohan)