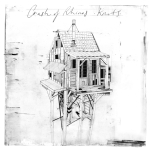 You may be familiar with a concept within music known as the "second album syndrome". After successful, well-received initial showings, bands have a tightrope to walk between consolidating their previous efforts at the risk of being called "stale" by the critics, or releasing more experimental material, at the risk of alienating their dedicated fanbase. Crash of Rhinos' 2011 debut 'Distal' was a phenomenal record, clumsily (but charmingly) bundling the worlds of emo, math rock and post-rock altogether, tied up in DIY punk string; after impressing so many with their first, the Derby quintet set themselves a tough act to follow. Fortunately, they manage to pass with flying colours.
'Knots' hones COR's craft to perfection; like taking a sander to 'Distal' and smoothing out all the rough edges, to show the world exactly what they're made of. The labels this album is being released on tells you everything you need to know about the sound of this record; not only does it fit right at home with the respective labels' rosters, but also that they have a sound that straddles both sides of the Atlantic – they take cues from luminaries such as Cap'n Jazz and American Football, but also sound quintessentially British, putting this writer in the mind of largely forgotten Stoke-on-Trent post-hardcore act Spy Vs. Spy.
This album is a lot to take in; at 52 minutes long (with 3 of its 11 tracks being short interludes), this is a large investment of time, but the rewards are endless. Tracks like 'Opener' (which, strangely enough, is the second track) immerse the listener instantly, as delightful chiming melodies play around the synapses, powered on by the phenomenal talents of drummer Oli. Some bands who play long-form music fall victim to their own ambition and let the attention of the listener wander; not so with Crash Of Rhinos. 'Standards and Practices', throughout its 7 minute+ course, keeps the purveyor in rapt awe; same too with 'Speeds Of Ocean Greyhounds' and 'Impasses', whose track lengths (both break the 6 minute barrier) inspire dread, but you come to realise that there is nothing that could be added or taken away to improve these wonderful songs.
If 'Knots' was a person, it'd be someone you've seen about, who seems pretty cool; the first time you talk to them, you're pretty blown away by their charms and warmth, and, over time, through more conversations, they become your best friend. If this record isn't instant for you, that's fine – give it time, and it will click. And when it does, you'll realise what a truly special record this is. 'Distal' was a wonderful introduction to the band, but on 'Knots' they've reached unprecedented heights – they've taken what made that record great, given it a little spit 'n shine and released something that is sure to feature on a few end-of-year lists, if not go down in the annals as one of the great modern emo records. Simply incredible.
5/5
'Knots' by Crash Of Rhinos is released on 22nd July on Big Scary Monsters.
Crash Of Rhinos links: Website|Facebook|Twitter
Words by Ollie Connors (@olliexcore)