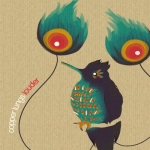 If you're from Scotland and you happen to be in a band, there must be a feeling of dread when someone asks where you're from. Why? Because the moment you open your mouth and utter the words, "We're from Scotland", you're more than likely to get bombarded with questions of "Do you sound like Biffy Clyro/Twin Atlantic?" Or you might get the odd person who then refuses to listen to your band because they have a vendetta against Biffy Clyro/Twin Atlantic for some peculiar reason.
Now, this may pose a slight problem for Copper Lungs as yes, they do hail from Scotland but that shouldn't mean anything. They're gearing up to release their debut album 'Louder' and it is an absolute killer of an album.
Opening title track 'Louder' combines sweeping vocals with melodic hooks, creating a storming introduction. Elephantine drumming and bouncy choruses feature in 'Chasing Lights' and 'Glasses', while 'On Board' rings out adrenaline-fuelled energy.
'Believe' mellows the mood – a poignant, melancholy track, it's incredibly emotional. Vibrant and bold 'Ends Up This Way' weaves monster riffs easily into the track, layering up with incredible, voluminous vocals that simply echo with the husky Scottish accent that so many love.
Finishing off with 'Answer', it seems that Copper Lungs have created a debut that they can be truly proud of. Choc-full of pumping riffs and sing-a-long choruses, it won't be long until this quartet become a household name.
4/5
'Louder' by Copper Lungs will be releasedon the 15 March on Saraseto Records.
 Copper Lungs Links: Facebook|Twitter|Tumblr|BigCartel
Written by Jess Tagliani (@JessTagliani)