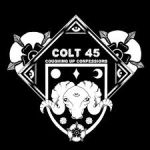 When your influences include Alkaline Trio, At The Drive, The Gaslight Anthem, Glassjaw and Brand New you know that a band has a repertoire of influences that when combined will create something special and COLT 45 do just that.
Playing a mixture of punk infused alt-rock COLT 45 could be lumbered with a whole myriad of similar bands who could simply play linear rock hits that have no real guts to them but this album feels more focused and raw which sets it apart.
'Coughing Up Confessions' is a re-release of their last two EPs into the form of a full release, which showcases the journey that the band has taken in regards to their evolution. I wish more bands would do this as it shows they're proud of their beginnings and the direction which their band has taken.
For the most part the songs are well moulded to create memorable passages, this is aided with guitar hooks, riffs and warming vocals but what really pushes this album forward is the drums. The punk edge really shows in the drumming, disco beats, rolls and over the top fills are scattered throughout the whole of 'Coughing Up Confessions' and adds a fun factor and gives the songs an extra layer of depth.
Highlights come in the form of  'Happiness Is A Dying Art' and 'I'm Drowning Not Waving' both of which couldn't be more different. 'Happiness Is A Dying Art' has an upbeat reflecting mood talking about such things as being younger and carefree without making it appear bitter or pessimistic but more of a understanding to look forward to the future and not to dwell. Whilst 'I'm Drowning Not Waving' clocks in as one of the slower songs with more rock elements and less punky vigor but still manages to make a lasting effect with its memorable chorus and harmonious vocals.
Boasting radio friendly anthem hits combined with sharp musicianship and a fierce energy, COLT 45 are a band taking the tried and tested method of making rock music, but making their own style and smashing it out of the park.
4/5
'Coughing Up Confessions' by COLT 45 is out now on Visible Noise.
COLT45 links: Facebook|Twitter|Tumblr
Words by Grant Fullick