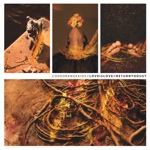 Potentially joining the list of hardcore greats is Code Orange Kids. Their début album 'Love Is Love // Return To Dust' could well be Deathwish Inc's most prized possession within their ranks as 2013 will undoubtedly pave a glorious path of Code Orange Kid's beautiful destruction and destructively beautiful songs.
So many influences are literally shoved into this record that it wouldn't be fair to really categorise; hardcore, metal, doom and punk all play pivotal roles in this monster. There's passion, anger and tempers as well as grudging, sludge based riffs, shouting, growls and blast beats to storm in at any given moment, all for a completely overwhelming experience that will captivate your every listen. That bull in the china shop? This is currently playing on his iPod.
But it's not all about the heavy. The heartfelt is displayed so preciously in the melodic Title Fight-esque sense. 'Colours (Into Nothing)' showcases this side and is such a contrast to the monstrosities that preceded it, but still the record feels naturally progressive and sounds like the same band.
As some albums will be a collection of songs, 'Love Is Love // Return To Dust' is two sides of a band and one aural journey between spectrums of a bands intentions, thoughts and feelings. All that passion is poured out into these two different channels but it's that same passion that helps to tie this record together and tell you that it's the same band through and through. 
There's two different sides to this band, but one fantastic record that you should listen to.
4.5/5
'Love Is Love // Return To Dust' by Code Orange Kids is out soon on Deathwish Inc.
Code Orange Kids links: Facebook|Twitter|BandCamp
Words by Mikey Brown (@mikeymiracle)