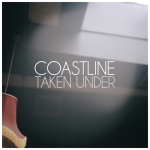 With the aim of changing the perception of "emo" here in the UK, Kent's Coastline are setting themselves a big goal and on first listen to their debut mini-album, 'Taken Under', you would be misled as the quartet come off as you're typical UK pop-rock hopefuls. Nevertheless through the six songs on show here, its clear Coastline have tons of potential.
Opening track 'Chapters' is a bold, upbeat number that gives the mini-album the ideal start and with the bands sentimental lyrics; "when I was young, I was always dreaming" they're able to show they can write thoughtful yet catchy songs. The same goes for 'Dance Alone', which has a subtle swagger that is boisterious and resonates a feel-good factor throughout.
The title track is next and sees the band neatly combine pop sensibilities, suitable backing melodies and sincere lyrics, which when put together is comforting. Structually Coastline are able to keep your attention as the buildup leads to powerful chorus that fits the bands perfectly.
By the time you reach 'Embers' and 'Riverside' the quartet are flourishing yet passionate. The latter closes the mini-album and neatly takes a ballad-like routine that plays off the bands tight melodies well. Whilst 'Embers' soars beyond and hints at the bands potentially lighter side.
For a debut release, 'Taken Under' sets the bar high for Coastline. The bands mix of bold choruses, introspective lyrics and overall tightly-crafted songs is a winning combination, and certainly makes the quartet a band to keep an eye on in the coming months. Although they may not to succeed in changing the perception of "emo", Coastline make a huge stride forward within the up and coming group of British rock bands.
4/5
'Taken Under' by Coastline is available now.
Coastline links: Facebook|Twitter|Bandcamp|Tumblr
Words by Sean Reid (@SReidPortfolio)