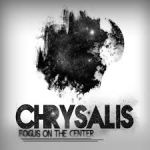 'Focus On The Centre' is the latest 7 track offering from eclectic metallers Chrysalis, who formed back in 2003. Initially making a name for themselves with slots at the Vans Warped Tour and opening for the likes of A Day To Remember and Agent Orange, this is their first release in 7 years and a hotly anticipated one for seasoned fans.
Recent single 'Instant Silence' instantly reminds the listener how these twenty somethings first began to make waves as reputable genre-hoppers – an intro that oddly hints at their home state's surf pop leanings before launching into Glassjaw / Daryl Palumbo-esque vocals and Incubus circa-'Make Yourself' guitar lines. This erraticism in influence is also apparent in 'Saturn Waits', a punchy as hell track and an adequate demonstration of the talents of Jared Sturgis (bass) and Billy Norries (drums) as a solid rhythm section. Tracks like 'Ms. Me' and 'Thoughts Behind' are of more traditional form, cut from the same cloth of modern groove metal as The Safety Fire and Tesseract.
'My Forsaken' rarely pauses for breathe amidst the barrage of palm muted riffs and the unbounded screams of Yessi Burton, who proves himself a versatile and enigmatic vocalist throughout. 'Sounds Of The Playground' offers some of the album's most frenetic moments, completely running the gamut from electronica to post-hardcore and even finding its way into foreboding carousel inspired piano passages.
Its not often a record with a backstory as weighted as 'Focus On The Center' comes along. With the artwork and album itself dedicated to their late friend Jeff Davis of Lindbergh Skies, who tragically died of an overdose during the making of the record, this is a release that looks to serve as both a musical and emotional catharsis for the returning Californian five piece. Indeed, it is a fitting tribute to their departed friend, and an excellent step for Chrysalis looking to find their footing once again.
4/5
'Focus on the Centre' by Chrysalis is out now.
Chrysalis links: Facebook|Website|Twitter
Words by Joe Danher