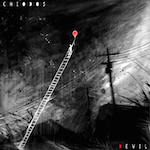 For some, 'Devil' could be considered Chiodos' "comeback album", especially with the return of vocalist Craig Owens and drummer Derrick Frost. It's also the band's first LP in four years, and in the current music world that can be a long time. Nonetheless, 'Devil' picks up the momentum from where Chiodos left it.
Personally I've hardly spent much time listening to Chiodos yet I've always admired the band's grandiose approach as well as Owens' vocal prowess. So it's a good thing these are both very much in tact from the start. 'We're Talking About Practice' will please old time fans with its infectious chorus, hectic guitar work and subtle theatrical tone.
Afterwards, the band hit their stride as 'Ole Fishlips Is Dead No' and 'Why The Munsters Matter' offer a double slice of adrenaline-filled post-hardcore, with Owens' harmonious vocals as the centrepiece.
'3 AM' is an early highlight with its well-paced verse and radio-friendly chorus. Sure it's slightly a new direction for the band, but it's one that's going in the right way.
At this point I have to mention Thomas Erak of The Fall of Troy. Having taken the reigns of lead guitarist in late 2012, Erak's Chiodos is an effective one as tracks like 'Sunny Days & Hand Grenades', 'Expensive Conversations In Cheap Motels' and 'Behvis Bullock' allows him to shine with driving riffs that are throughly pulsating.
Lyrically the band ebbs and flows throughout 'Devil'. 'Duct Tape' is a dark, intense and deals with temptation; "If you want to know who you are just come with me into the dark." Whilst at the opposite end of the spectrum, 'Under Your Halo' is musically radiant and lyrically uplifting; "I feel invincible, so chemical around you. Flying high, I'm so alive beside you." Coupled with '3 AM', 'Under Your Halo' is Chiodos at their most accessible.
The nine minute long 'I Am Everything That's Normal' closes the album and sees Chiodos putting emphasis on their theatrical side. Opening with sweeping strings and a gentle piano, the gradual build leads to a rewarding, powerful pay off. With spiralling guitars, Owens' soaring vocals plead for forgiveness ("Help me reach all my dreams You showed me how to be") before the harmonious strings come back into play. It's structure is effective as Owens' final line, "I swear I'm different now" leaves a lasting impression, as a dissonant piano and radio static plays out the remainder of the track.
At 50 minutes long, 'Devil' maybe a big ask for some casual listeners, yet you are rewarded with a handful of highlights along with a set of songs that show growth in the band's songwriting. It's a record that solidifies Chiodos as more than your standard post-hardcore band.
Yet it's downfall it's not the "breakthrough" record many had hoped for. Whilst there are moments that show promise of Chiodos smashing through that glass ceiling of major success, there are times where the band's progress is nonexistent, and merely sounds like Chiodos of old.
Nevertheless, 'Devil' is a fitting introduction for new listeners, as I'm sure the band's potential will continue to grow in the coming years. It documents where they have been, and where they are going. A solid release that stands out from the post-hardcore crowd.
3.5/5
'Devil' by Chiodos is available now on drk/lght records.
Chiodos links: Website|Facebook|Twitter
Words by Sean Reid (@SeanReid86)