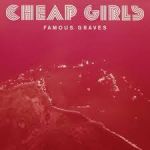 A casual visit to the resting places of dead celebrities. It's an enjoyably morbid touring tradition boasted by Michigan's own Cheap Girls, and one that has found itself the titular basis of 'Famous Graves', the band's fourth full length album and their first with Xtra Mile. Recorded across a host of locations throughout Michigan and Illinois, singer Ian Graham has insisted that this self produced LP is a markedly more methodic and ambitious record than efforts prior.
The album ignites with 'Slow Nod', a jangly offering of sun-kissed Americana that leads neatly into 'Slow Cut Days', a track with a similarly summery demeanour that draws many a shade of recent tour mates The Hold Steady. "And I'm on the bed wasting away", drawls Graham on 'Knock Me Over', a departure into more melancholic songwriting that still retains the twang of 90s power pop that already seems to be forming a backbone throughout this record. Barely two minutes in length, 'Amazing Grace' is over before its even began – a remarkably dreary non-event. 'Pure Hate' is just about the best 4 minutes you'll find on 'Famous Graves' and a certain testament to the band's love of The Replacements with its harsher, post-punk appeal.
However, it's halfway through 'Man In Question', which gave fans their first glimpse of the album over at Paste magazine last month, that there's the beginnings of a stark realisation. One that becomes a sour taste by '2nd Floor', in that the rehashing of these "safe" midwestern rock familiarities are rapidly becoming stale. With the exclusion of a half decent chorus cropping up here and there, 'Splintered' and 'Thought Senseless' limp by with a similar disinterest in exploring anything beyond what's come before. Thankfully, there's one last glimmer of promise with 'Turns', an unexpectedly tender and dynamic conclusion to the record, which sees leanings of country and gospel whilst never committing fully to either, altogether creating a much richer tapestry than the conglomerate of the four tracks prior.
There's an odd feeling that lingers after listening to 'Famous Graves' in its entirety. There's nothing fundamentally WRONG with the way this album plays it pretty safe, but there's nothing particularly right about it either. Granted, there's a handful of stronger ideas but more often than not, the album wanes into a "we've heard this before" state of tedium, and its Cheap Girls' refusal to make this catalogue of songs their own that results in a misguided stab at nostalgia that would do well to merit a second listen.
2/5
'Famous Graves' by Cheap Girls is out now on Xtra Mile Recordings.
Cheap Girls links: Facebook|Twitter
Words by Joe Danher