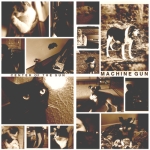 Shoegaze is rather unfairly maligned as a genre. Easily dismissed by many as gloomy, pretentious, impenetrable noise, there is true reward to be found once immersed in the textures, the timbres and the blissful shards of noise raining down on you. Center Of The Sun encapsulate all of these elements and have created a memorable first full-length effort in 'Machine Gun'. The record is named after a song from Reading's Slowdive's seminal 'Souvlaki', and it's from their hazy, seductive melodies they draw a lot of their influence, alongside shoegaze titans like My Bloody Valentine and Cocteau Twins. If you remember enjoying mid-00's vaguely hyped acts Howling Bells and Silversun Pickups, you'd be onto a winner picking this one up.
After a short introduction track cheerily named 'We Are All Going To Die', 'Cease' introduces a sumptuous swarm of guitars, with a coruscating lead-break that glitters like a diamond in the rough. Following on from this, 'Home' starts with a downtuned riff more in keeping with the likes of Torche or Baroness, a style of music two members are more used to as members of "blackened crust punk" band Young And In The Way, and the heavier vibes continue in 'Turnabout' after a Cocteau Twins-esque intro, which gives this album a killer hook. The North Carolinian five-piece have hit a rich vein of form here – this is wonderfully produced to bring the very best out of each instrument, including the voice of Ally Hoffman.
<a href="http://centerofthesun.bandcamp.com/album/machine-gun" data-mce-href="http://centerofthesun.bandcamp.com/album/machine-gun">Machine Gun by center of the sun</a>
'Reckless Sea' has just the right mix of density and rhythm that made Jesus And Mary Chain's 'Psychocandy' such a widely-regarded record, and such is the quality of this record that 'And I Am Left With Ludwig' manages to pull off an opening riff that sounds suspiciously like the start of 'Yellow' by Coldplay and still sound fantastic. This record is just about the perfect length – at 6 tracks and 2 "interlude" pieces, this is essentially a glorified EP, but any longer it would risk sounding drawn out and repetitive. If the band were to explore new ideas in fusing stoner metal and shoegaze, they could be scarily good, but for now this is a wonderful slice of dreamy alternative rock that, despite its release in late 2012, seems to have gone totally unnoticed by the music press at large. When February is being February and being cold, wet and dreary, Center Of The Sunprovide that shimmering array of light and colour for you to wrap your ears around.
4.5/5
'Machine Gun' by Center Of The Sun is available now on Mayfly Records.
Center Of The Sun links: Facebook|Bandcamp
Words by Ollie Connors (@olliexcore)