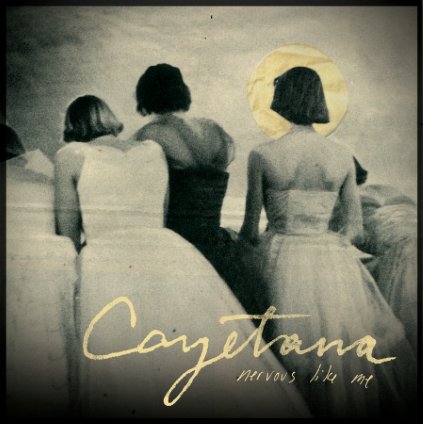 So many bands these days choose to go straight for the jugular in terms of their songwriting. Their tunes quickly arrive at the big hook and that's your lot – you're either "turned on or turned off", to somewhat unexpectedly quote Paddy McGuinness. Not so with Cayetana though. These three girls from Philadelphia have a far more organic sound that manages to be melodic and catchy without being the least bit obvious.
'Nervous Like Me' is their debut full length after forming two years ago, and it's all about big, powerful sounding indie-punk with some strong folky overtones. Lead vocalist Augusta Koch's strong Philly accent spreads out across their stripped down yet somehow expansive melodies like honey, and their songs are pumped full of emotion: not in a moody and self-indulgent way but through the earnest and passionate nature of the music.
The band that immediately sprang to my mind as first track 'Serious Things Are Stupid' kicked in is Samiam. They create such an impact without over-complicating anything, and the real soul of the music is not in striking the right chord here or hitting the best drum-fill there but in the overall nature of the sound, how it swells and subsides and carries you with it.
'Black Hills' is a real favourite on the album. It absolutely gallops but somehow you never feel the pace, like travelling in a luxury car that can handle 70mph like it's doing 20. It lifts your spirits with sparkling lyrics like "bring me back to those good days, I was finding my old ways". Meanwhile the excellently titled 'Hot Dad Calendar' has more pain to it – they don't always do happy but always look for hope as Koch sings "I know you really want to make it out alive".
Not all of the songs have quite the same kick to them as others. Cayetana never go down the easy route of looking for the catchy hook but instead try and draw you into their imagination, sculpting an atmosphere with their melodies. Sometimes this works so well and other times the songs can feel a little flat and impenetrable.
To create greatness though, you've got to take some risks, and they've done that and in doing so created a record that is as unique as it is delightful. It's going to be exciting hearing their sound grow and mature after this impressive debut.
4/5
'Nervous Like Me' by Cayetana is out now on Tiny Engines.
Cayetana links: Facebook|Twitter

Words by Alex Phelan (@listen_to_alex)