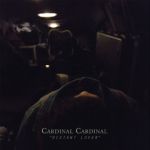 When I hear the phrase "acoustic side-project", I'm never really sure what to expect. For every City & Colour there are a thousand people who try to jam a few chord progressions and pass it off as creativity, and for every Owen there are another thousand people who think 'stripped-down' constitutes taking out everything but the most basic of chords and believing it to be an improvement on a song. Thankfully, neither of those apply to Cardinal Cardinal, the solo effort from Dads' John Bradley. 'Distant Lover' is a well rounded set of songs that sheds Dads' reputation as emo's resident comedians in order to present a heartfelt 14 minutes of full-band acoustic music, even if Bradley does sound suspiciously like Jim Adkins at times.
'Distant Lover' is a far cry from the (for want of a better term) twinkly emo of Dads, replacing the hyperactive clean riffs with subtle melody and spacious instrumentation while still retaining the engaging lyricism of the two-piece. There is plenty of variation on the record too, both between the tracks and in the runtimes of individual songs themselves – something not easy to make work in acoustic music. 'When I'm Not Alone' is a perfect example of this: the song starts out for the two minutes or so as a slow, bare strummed number, but develops into a built-up and diversely-paced love song.
Distant Lover by Cardinal Cardinal
While instrumentally strong, the lyrics are the highlight of this album. Much in the same way as in Dads, Bradley's lyrics are vivid and heartfelt, but here they have the added benefit of less intrusive musicianship to help them stick out. Lines like "Fuck it, let's get married… we'll be miserable together, but it's better than being alone" paint an honest picture of both head-strong romanticism and jaded pessimism and avoid tired lyrical tropes and cliches.
All in all, I could not recommend this EP enough. There is a surprisingly large amount to sink your teeth into for 14 minutes of acoustic music, given that the average EP of the type has little else than simple strumming and lyrical cliché. The songs are well thought out and fully realised through backing melodies and rhythms – enough to catch your ear both instrumentally and lyrically through a good few listens on repeat.
4/5
'Distant Lover' by Cardinal Cardinal is out now on 6131 Records.
Cardinal Cardinal links: Bandcamp|Facebook
Words by Ben Kosma (@BenKosma)