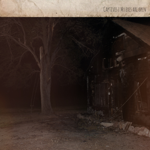 Captives hail from what might be THE most American-sounding place on the map: EAGLE MOUNTAIN, UTAH, where, we hear, angels apparently fear to tread. As far as the musical heat map goes, however, the outfit comfortably fit in the populated niche of alternative rock with restrained hardcore touches. Their EP 'My Eyes Are Open' is, as described by their press-release, "about losing childhood innocence and becoming bitter over it." Not ones for positive thoughts those boys from Captives.
'Forsaken' begins with a palm-muted chord progression accompanied by sparse reverberated notes at the sort of measured pace Balance And Composure would get cozy in. From its soft opening, the track crescendoes into a combination of crashing cymbals and vocals being strained to their furthest capacities for what makes a satisfyingly acerbic chorus. The band barely relent distortion from then on, cementing the hoarse vocals into place as they transition from loud to quiet to loud, etc. It's a fairly enjoyable track, though it certainly doesn't need to stretch to 5:21.
<a href="http://weareallcaptives.bandcamp.com/album/my-eyes-are-open" data-mce-href="http://weareallcaptives.bandcamp.com/album/my-eyes-are-open">My Eyes Are Open by Captives</a>
If you're interested in listening to essentially the same track with a minute trimmed off, then welcome to 'Abandon'. Again, soft opening + quiet-ish verse + liberating chorus of sorts + mild entertainment. 'Ugly', on the other hand, is a step in the right direction with a handful of interesting touches here and there. A lackluster start, that oscillates somewhere in the black and soulless vacuum in which Oasis licks used to hang out, but at the two minute mark, Captives revel in their most cathartic outburst yet. It's not as downright melodic and thus accentuates its bitterness and, better yet, it is not followed by a repetition of previous sections but by a couple of instrumental measures and a pacier middle eight that packs more authentic punch than fits on both previous tracks.
Sadly, we're ultimately treated to 'Grace', the inevitable ballad. It's mushy, it's infuriatingly romantic and doesn't reach the heights of the Brand New it's trying to emulate. Let's not ponder too much about it.
One thing is for certain, Captives need to work on being more succinct. Nearly every track would benefit from some trimming to stay fresh and avoiding tiresome over-repetition. However, they also sound like a band still trying to find their feet sonically and it would be unfair to judge them too harshly at this stage. There are promising signs however, especially in the powerful emoting delivery of 'Forsaken' and 'Ugly', and one could expect better things once the outfit mature a little. For now, they'll get the benefit of the doubt and a respectable nod of the head for the E.P's better moments. 
2.5/5
'My Eyes Are Open' by Captives is out now on Reveille Records.
Captives links: Facebook|Twitter|Bandcamp|Soundcloud
Words by James 'Bearclaw' Lewis (@swissbearclaw)