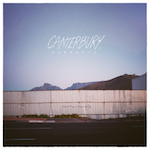 Since releasing their debut record, 'Thank You', Surrey rockers Canterbury have been continuously been labelled as a "promising UK rock act" (or something to that effect) however its followup, 2012's 'Heavy In The Day' didn't quite meet the expectations many critics and fans had hoped for. So for Canterbury, 'Dark Days' is certainly a case of that "tricky third album." However it makes up for the somewhat lacklusture sophomore effort that somewhat hindered the band's progress.
'Dark Days' sees the quartet take on a bolder, more dynamic sound that adds depth to their brand of British alt-rock. From the start, 'Expensive Imitation' provides a punchy, energetic opening with soaring vocals from Luke Prebble.
It's clear Canterbury have a purpose with 'Dark Days' as tracks like 'Keeping It Movng' and recent single 'Satellite' are favourable for their anthemic qualities that allow Canterbury's pop sensibilities to shine through. Whilst 'All My Life' is an early but soft highlight that once again puts emphasis on Canterbury's ability to write catchy-but-dark pop-rock songs.
As 'Dark Days' settles into itself, tracks like 'Hold Your Own' showcase the band's compelling, atmospheric side with its haunting doomed marching tone leading to an explosive chorus that truly resonates with complete and utter power. Later on 'By the Trail' provides an equally mesmerizing moment.
Lyrically Prebble and company have matured with 'Think It Over' showing the band's introspective side alongside passionate vocals and dynamic instrumentation. Whereas closing track 'Going Nowhere' starts off with a simple drum beat and laid back vocals, which eventually giveway to a simple guitar riff and chorus line of "we're going somewhere."
Overall Canterbury have stepped up their game with 'Dark Days'. They've taken their impressive knack of writing hooky alt-rock songs, and combined it with a subtle yet atmospheric approach which thankfully does not engulf the record. It is a record that neatly ebbs and flows between bright, upbeat moments and calmer, intrigiuing numbers that leaves you listening right to the end. However the band's upbeat moments outweigh the quieter tracks which later on give the impression that the band somewhat lack ideas.
Nevertheless 'Dark Days' will certainly put Canterbury back on track and if its heard by the right ears, interest in the quartet will soon pick up momentum again. Expect brighter days for Canterbury.
3.5/5
'Dark Days' by Canterbury is out now on Hassle Records.
Canterbury links: Website|Facebook|Twitter
Words by Sean Reid (@SeanReid86)